Hey Maplers!
I hope you enjoyed the Design-A-Chair Contest! I figured a lot of you have been cooking for Thanksgiving, so why not make EVEN MORE FOOD! It's time for *drumroll* a cooking contest.

Make a V-themed dish, take lots of Instagram-worthy pictures of it and post them on the forums! You can use the MapleStory V logo for inspiration, the colors of our update, or make it night club themed with cool neon colors. Bonus cool points for anyone that can find a fun and creative way to incorporate LEDs into your dish (please don't eat the lights).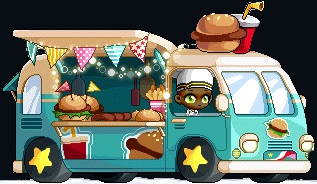 The contest will run from November 24th until December 31st at 11:59 PM Pacific. Winners will be announced shortly after.
Click here for full details or to submit your entry.