Join the six heroes of the Maple World as they come together to fight off the Black Mage's powerful commander, Damien. Check out Aran and Evan's newest abilities as you explore the revamped Black Heaven and Monster Park, now more accessible and rewarding, with a few new goodies to discover! Collect monsters to add to your new Monster Collection, and see if you can survive Spiegelmann's expedition to treacherous Slumbering Dragon Island. Then, test your control with a fun new challenge. Zero character creation will be available for a limited time, along with lots of other fun events in Heroes of Maple: Reborn, the first update of the summer!
HEROES OF MAPLE
Many centuries have passed, and the six heroes of the Maple World are being called on again. Damien, the Black Mage's commander, has amassed an army of demons. Loose in Maple World, he seeks to destroy everything our brave heroes have fought for. Play as Mercedes, Aran, Phantom, Luminous, Evan or Shade in the first few Acts of this brand-new blockbuster story! Additional Acts will be released later this summer.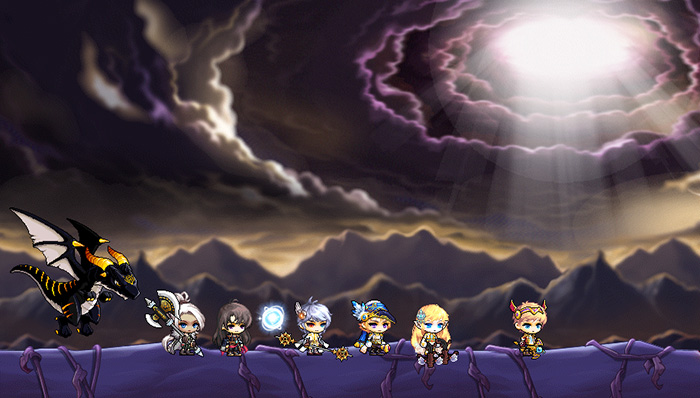 HERO JOB REVAMP
To celebrate their new story, the Hero jobs are getting some skill revamps and all-new illustrations. Aran and Evan will receive the biggest changes, making these two jobs more powerful than ever before. Aran's attacks boost her Combo Count, giving her an Adrenaline Boost once it hits 1,000 combos. With this boost, her skills grow stronger and special Boost End skills become available! Evan's job advancements are being reduced from 10 to 4, and he and Mir each now have their own skills. By partnering together, they can combine their abilities to use new Fusion skills!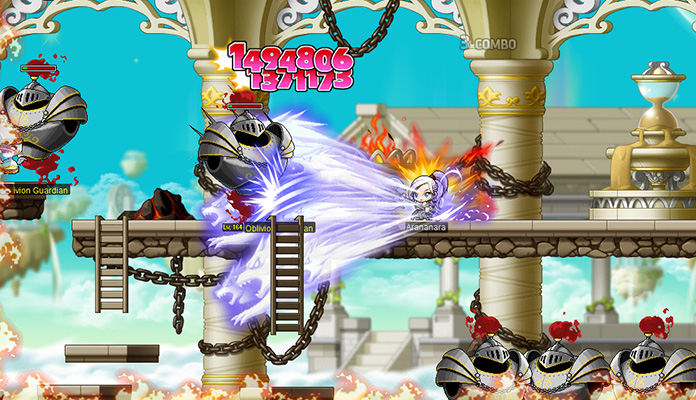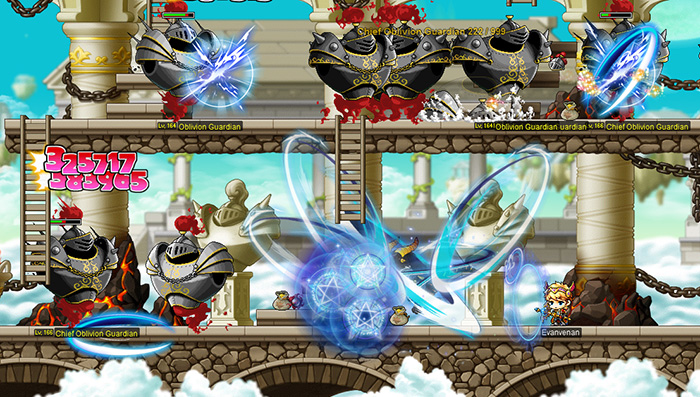 EVENTS FOR HEROES
What better way to celebrate the revamped Hero jobs than with events? Newly created Aran, Evan, Phantom, Mercedes, Shade, and Luminous characters will receive several items to help them get started, including a 7-day pet, restorative items, and more. Existing Aran, Evan, Phantom, Mercedes, Shade, and Luminous characters will also receive gifts! Level up and job advance new and existing characters to earn even more rewards such as 2x EXP coupons, a 7-day World Map Warp Drive, equipment boxes, Heroes Coins, Spell Traces, class-specific Hero Feather equipment, and many more.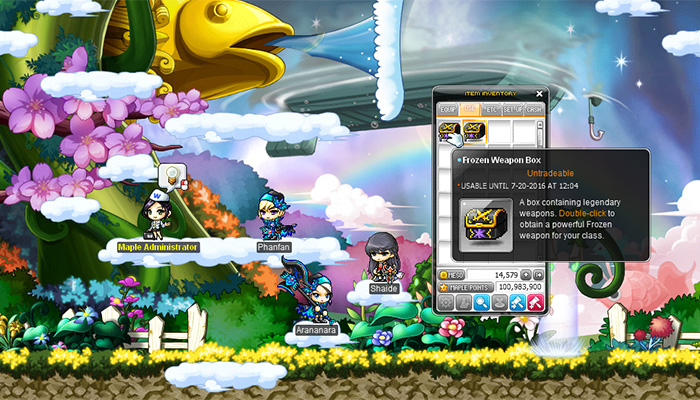 BLACK HEAVEN AND MONSTER PARK—REBORN
Black Heaven and Monster Park are undergoing some changes to make them more accessible. The HP of Black Heaven monsters is being reduced, and fights such as the Air Battle and Story-Mode Lotus can be weakened after failing these fights once. If you can complete the fights without skipping or weakening them, you will earn new Black Heaven Medal of Honor items. Meanwhile, Spiegelmann's Monster Park will now give a different reward each day. Defeat the monsters daily to receive rewards such as crafting materials, enhancement materials, mesos and more. You can also earn Monster Park Coins, new medals and badges, and tons of EXP. As part of this revamp, Monster Park Extreme will be temporarily closed.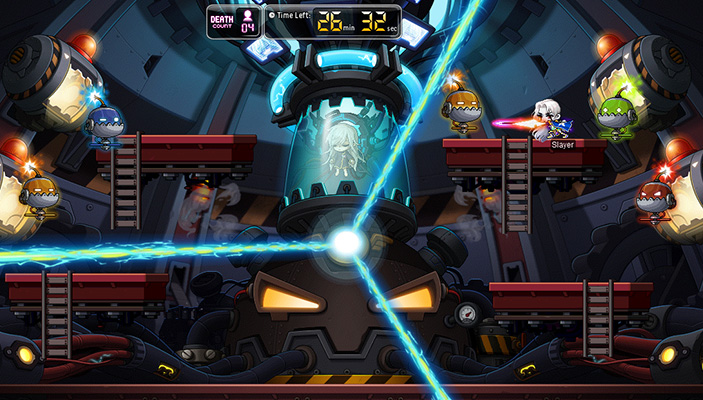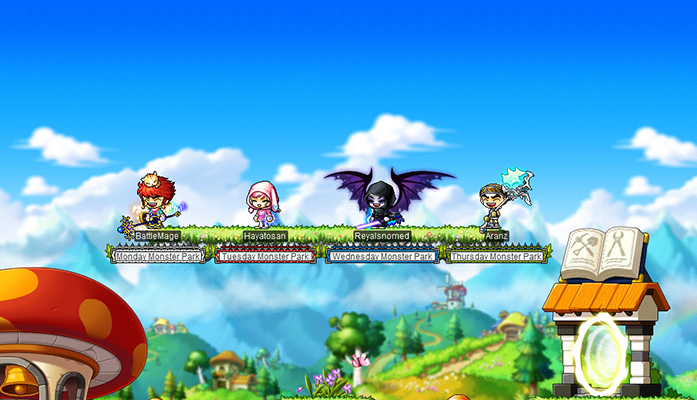 MONSTER COLLECTION
Hunt monsters to add them to your collection: Monster Collection allows you to collect over 600 different monsters and store them in a world-wide system, which is shared across all of your characters in a single world. You can collect monsters by meeting certain conditions as you hunt, or by acquiring a Monsterbloom! As you collect monsters, you will complete various stages and earn rewards. Once a stage is completed, the monsters inside can be sent off on special expeditions. When they return, they will bring you even more rewards! One type of reward is the new Cube chair, which can be rearranged and combined in different ways.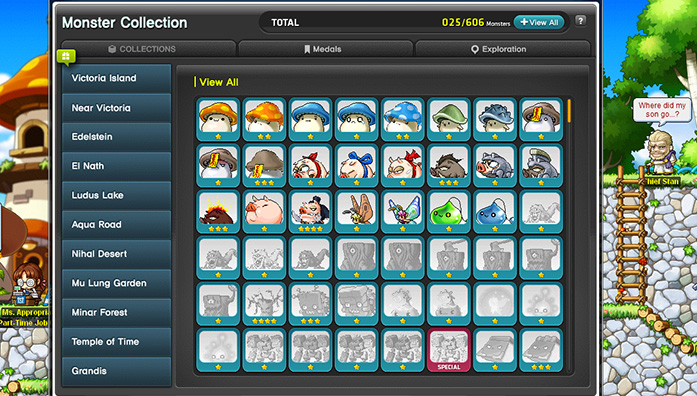 SPIEGELMANN EXPRESS
Join Spiegelmann on an expedition to Slumbering Dragon Island, and see if you can survive in the harsh, unforgiving landscape. Keep an eye on your Survival Gauge Bar, which tracks your Temperature (It's so cold!), Hydration (I'm so thirsty…), and Hunger (I'm starving!). Collect materials on the island to craft supplies to keep you alive. Make yourself a Fishing Chair and collect bait in order to catch fish on the island. Hunt around in snowdrifts (but look out for blizzards!) and you might find some useful items. Explore the island's caves, mountains and ice walls to see how long you survive before you succumb to the elements or send an SOS to Spiegelmann. He'll reward you for your struggles with EXP, mesos and Heroes Coins (more about them below).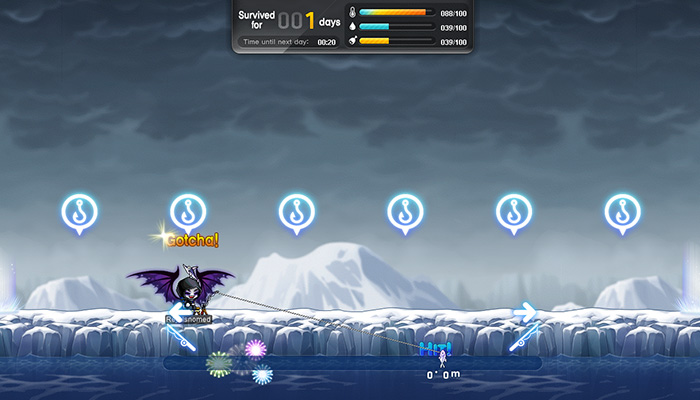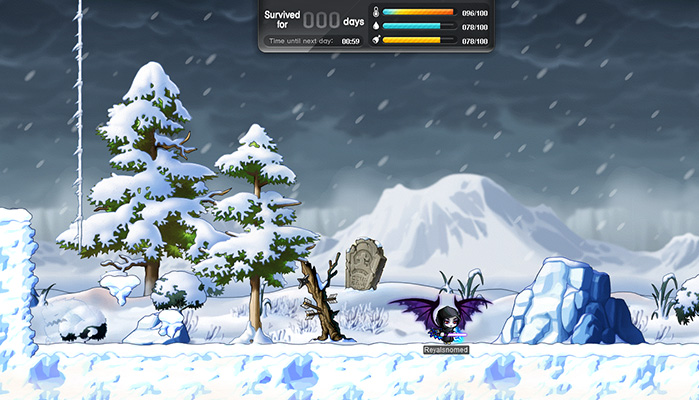 MAPLE RUNNER
How much control do you have? Test your limits through 40 fun stages as you jump and dash around the maps. With high-speed dashes and extra-high jumps, you can go farther and faster than ever. See how quickly you can get to the portal at the end of the map to clear the stage! Depending on your abilities, you can earn new medals.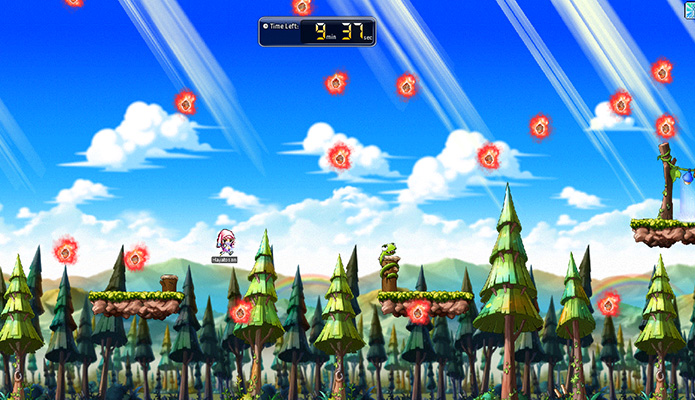 MORE EVENTS
Complete the first few Acts in Heroes of Maple to earn powerful Heroes rings. You can also collect Heroes Coins by hunting monsters within your level range and by participating in other events. Take your Heroes Coins to the Heroes Coin Shop to exchange them for new equips, scrolls, chairs, damage skins and more. Additionally, the Burning Project has returned, giving one of your characters under Lv. 150 an additional two levels for every one they gain when you level up. Zero has also returned, and will be available for character creation for a limited time!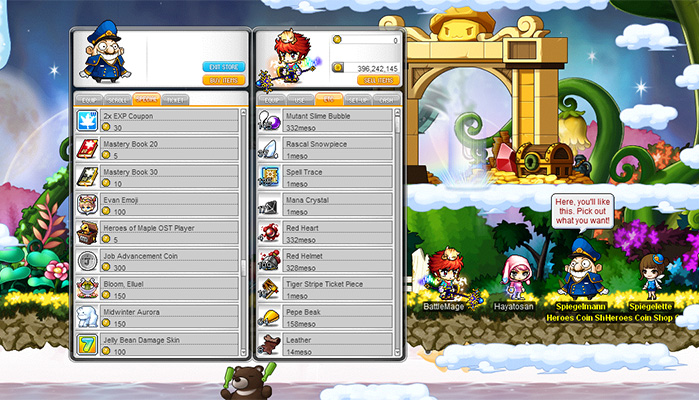 For the complete patch notes, click here!