Wednesday, September 7 to Tuesday, October 4
Beat the heat with a soaking-wet festival! Players Lv. 33 and above can participate in this wet 'n' wild event featuring members of the Cygnus Knights and the Resistance. The Empress Cygnus will assign you to one of these two sides, and you need to blast members of the opposite faction with Hydroblasters, giving other players a wet effect and 15-minute stat buff! Once you join a camp, you can't leave or switch sides for another 7 days. You will be able to easily identify members of your camp (or opponents) by the effect over the character's head.
Hydroblaster Skills
Each day at 6:00 AM Pacific (9:00 AM Eastern) a new Water Wars match begins and lasts until 10:00 PM Pacific (1:00 AM Eastern). Blast players on the opposing team with your Hydroblasters to earn points! You can even score combos if you're quick on the trigger! More combos means more points towards your score.
Using your Hydroblasters requires special skills! There are four basic skills, four enhanced skills, and 1 ultimate skill for each camp. Each camp gets access to specific skills.
Cygnus Knights Skills
Basic Skills

Bubble Blaster
Basic Hydroblaster
Water Ball Volley
Water Balloon Bomb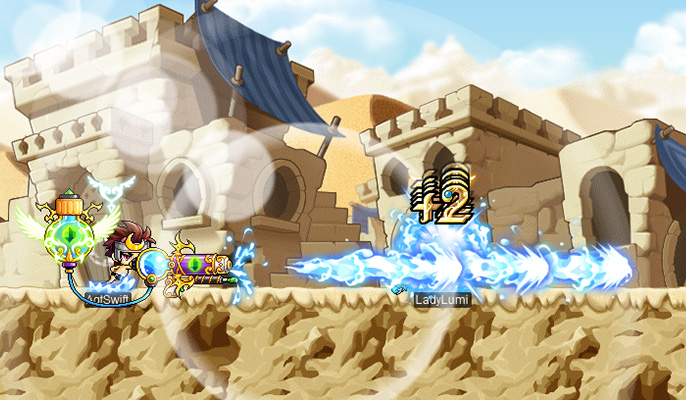 Enhanced Skills

Triple Bubble Blaster
Double Hydroblaster
Double Water Ball Volley
Whirling Balloon Bomb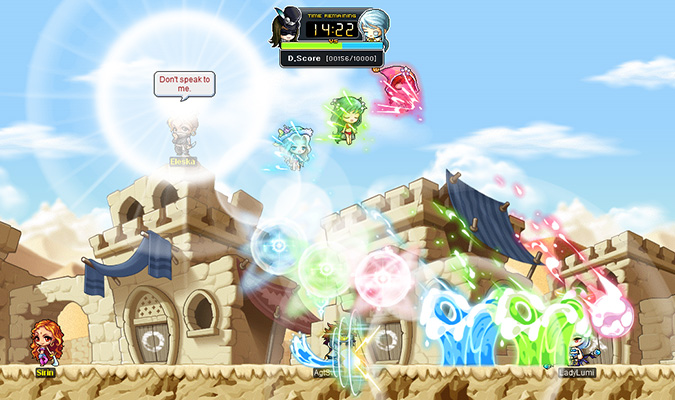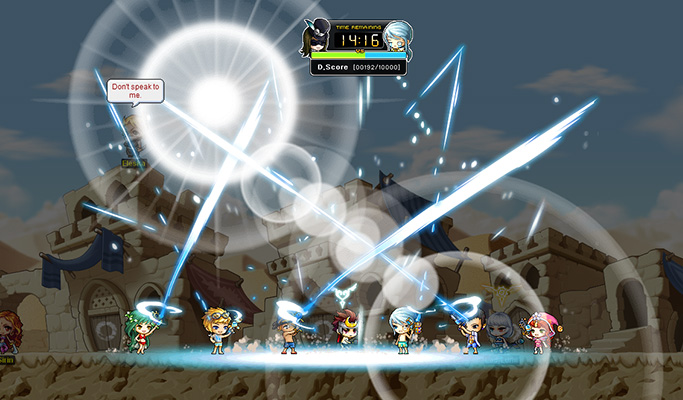 Resistance Skills
Basic Skills

Quackmaster Jr.
Rifle Hydroblaster
Hydro-drone Assault
Water Tank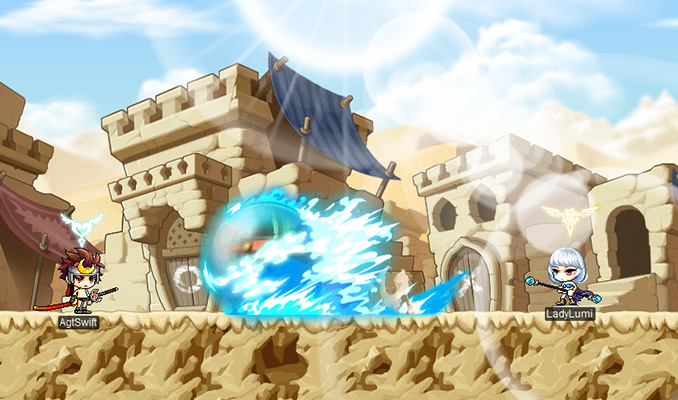 Enhanced Skills

Quackmaster Sr.
Gigarifle Hydroblaster
Hydro-drone Blitz
Water Cannon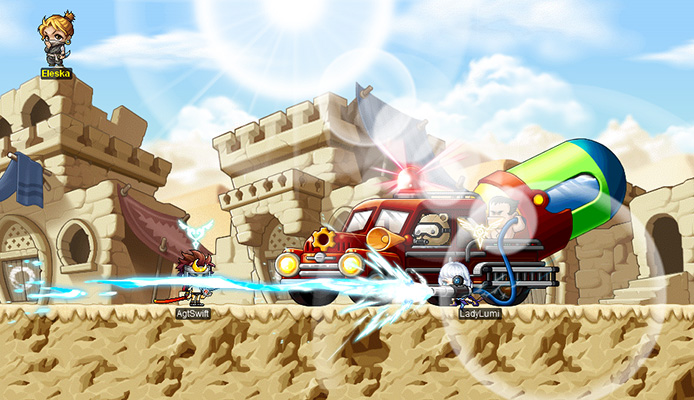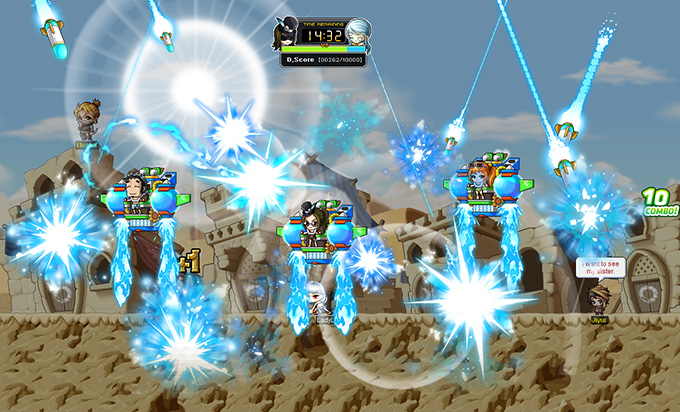 When you join a camp, you'll receive the first basic skill after you complete the tutorial. The remaining basic skills and enhanced skills can be purchased as coupons from each team's shop using Aqua Bucks. You can receive the ultimate skill after collecting all four basic or enhanced skills.
Once you've learned your skills, you can find them in the Beginner tab of your skill book. Each time you use a skill, you consume Water Pellets. You can get more Water Pellets by purchasing them from each team's shop, or by completing daily quests for the camp.  Monsters in your level range may also drop a few!
When you hit a member of the opposing team with your Hydroblaster skills, that player will receive a 15-minute buff. There are different buffs depending on the skill used.
Speed +20, Jump +10    

MaxHP/MaxMP +1000 

Weapon DEF/Magic DEF +1000

Weapon ATT/Magic ATT +20      

1.5x EXP
Scoring
You can earn points toward an individual daily score by blasting players on the opposite team. Your score will reset each day when a new match begins. Your daily scores add up to a cumulative score that counts for the entire event period. You can get different rewards depending on how well you perform during the event! You can check your individual scores through the quest notifier on the left side of the screen.
There's also a daily camp score, which reflects the total daily scores of all of the members of that camp.  See how well your camp is doing in that day's match! You can check the camp score by mousing over the Water Wars gauge on the screen.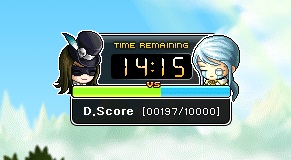 Ranking
In addition to scoring, the camp's watery skills are also ranked from Starter to Master! Your camp's rank is determined based on the total number of times its members successfully hit a player from the opposing team with a Hydroblaster skill. There multiple levels in each rank, so keep on practicing and see how good you can get!
Starter (Max level: 1)

Expert (Max Level: 2)

Ace (Max level: 3)

Master (Max level: 1)
Your camp's rank appears over your character's head, so that everyone can see how well your camp is doing. The higher the rank, the more rewards you can receive! The rank is cumulative, and will remain until you change camps.
Special Missions
When you reach a certain rank, special missions will become available. Take on these important missions to infiltrate opposing camp and blast their NPCs with Hydroblaster skills! You can repeat each mission up to 10 times per day, earning Aqua Bucks.
Rewards
NPC Shop Rewards
In addition to selling Hydroblaster skill coupons and Water Pellets, each team's shop has also stocked some great rewards! All items are available for purchase with Aqua Bucks. Collect items such as:
Cygnus Water Warrior Damage Skin, Resistance Water Warrior Damage Skin

Cygnus Victory Pose Chair, Resistance Victory Pose Chair

Hydroblaster Experience Chair, Hydrojet Chair, Water Ball Volley Chair

Special Bonus Potential Stamp, Pure Clean Slate Scroll 10%, Incredible Chaos Scroll of Goodness 60%, Gold Potential Stamp, Innocence Scroll 60%, Epic Potential Scroll 50%, and Golden Hammer 50%
SP Reset Scroll, AP Reset Scroll
4 Title Holder, Ten-chair Bag, Pink Coin Purse
Trait Boost Potion, Job Advancement Coin
Individual Rewards
Depending on how skilled your watery blasts are and how many cumulative points you earn, you can receive the following rewards!
SCORE
REWARD

10,000

20,000

30,000

Spell Traces (x300)

Water Wars Guppy Title

40,000

Spell Traces (x400)

Water Wars Marlin Title

50,000

Spell Traces (x500)

Water Wars Barracuda Title

60,000

Spell Traces (x600)

Water Wars King Shark Title

70,000

Spell Traces (x1,000)

Select 1 Water Gun skill