Wednesday, September 21 to Tuesday, October 18
Everyone likes a camping trip! Players Lv. 100 and above can go on an adventure to Maple Forest and enter the Campgrounds map at the top of every hour. Once you enter the forest, you will have to face its fierce inhabitants—hungry bears and raccoons! You only have 10 minutes, so act quickly!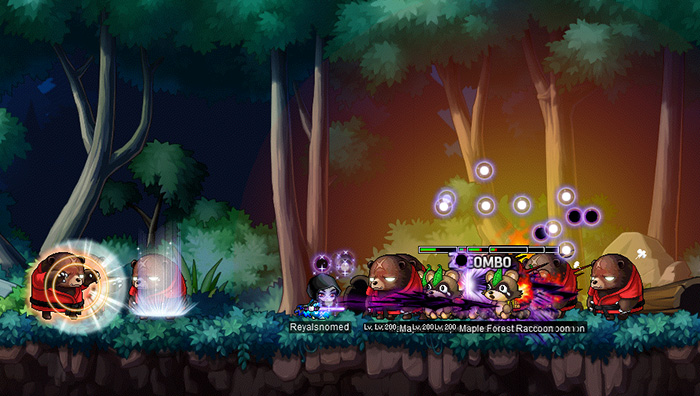 If you can defeat the animals and their ursine boss, you will be rewarded with a Bonfire Random Box. Open the box to receive one random item including yummy restorative items (hot dogs and s'mores, anyone?) and camping-themed chairs (like the Tent Chair, Yellow Tent Chair, Campfire Chair, or Miwok Chief's Chair)! The chairs are available as 90-day and permanent versions.

If you can take down the forest animals at least 50 times, you will receive a Maple Forest medal based on your level, and a Bonfire Damage Skin!
Maple Forest Helper: Medal. Untradeable, one-of-a-kind item. Req. Lv: 100, STR/DEX/INT/LUK +18, MaxHP/MaxMP: +100
Maple Forest Ranger: Medal. Untradeable, one-of-a-kind item. Req. Lv: 150, STR/DEX/INT/LUK +19, MaxHP/MaxMP: +150
Maple Forest Protector: Medal. Untradeable, one-of-a-kind item. Req. Lv: 180, STR/DEX/INT/LUK +20, MaxHP/MaxMP: +200

Bonfire Damage Skin: Untradeable