Wednesday, September 21 to Wednesday, October 12
If you enjoy MapleStory, now is the best time to check out Mabinogi! For a limited time, characters from MapleStory have made their way into Mabinogi's Soul Stream and landed right smack dab in the middle of Erinn!
Speak to Mushmom in Dunbarton to register your Mabinogi character for the event. You'll be able to select a baby MapleStory character to adopt! The babies are small and need you to feed them Happy Essences every day in order for them to grow big and strong.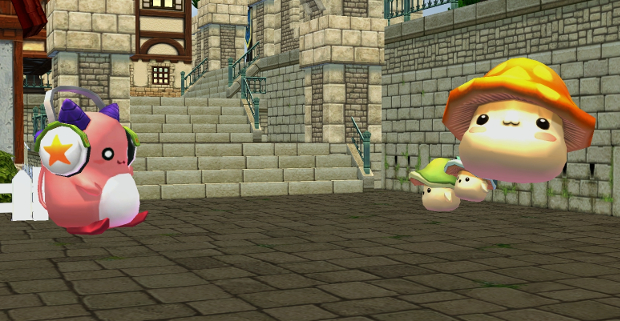 Once your baby is fully grown, return it to Mushmom to be rewarded with a Mushking Empire Gift Box! Open the gift box to receive one random item, including MapleStory chairs, MapleStory figures, materials, and consumable items.
You can speak to Mushmom again to adopt another MapleStory baby! Complete the quest six times to receive the brand-new Pink Bean Homestead Prop.

Hot Weekends
Login to Mabinogi during the following days to receive a Weekend Happy Essence, which can be used to grow your little buddy at a better rate than the normal Happy Essences!
Saturday, September 24 - Sunday, September 25
Saturday, October 1 - Sunday, October 2
Saturday, October 8 - Sunday, October 9

Wednesday, September 21 to Wednesday, October 12
Mushmom isn't the only one making an appearance in Mabinogi. Welcome Haku, the adorable Nine-Tailed Spirit Fox who accompanies Kanna in MapleStory! Now, you can have your very own Nine-Tailed Fox pet who will journey the lands of Erinn by your side.
For only 9,900 NX, you can purchase an amazing Nine-Tailed Fox to fight by your side! It can also be used as a mount to travel swiftly. If you run into any trouble, there is no need to dismount: The Nine-Tailed Fox is prepared for mounted battle! The Nine-Tailed Fox is so pleased to be adopted that it comes with a gift for you. Open up your Pets Inventory and you'll find the Rainy Fox Chair! This elegant chair features a large fox happily resting at your feet.