Halloween is upon us and Maple World has been overrun with creeps... creep-tacular costumes, eerie-tastic events, and spook-ilicious treats, that is! Participate in a cauldron-ful of events and splurge on goodies, including chairs, consumables and equips.
And stay tuned for special events occurring Halloween weekend only!
Secret Stories
Wednesday, October 19 – Wednesday, November 16
Take part in three spooky stories of Maple World. The choices you make in each tale determine the ending, so choose wisely! In "The Henesys Haunting", you must investigate a spooky spirit that starts showing up in Henesys. Could it be related to an event from the past? In "Maid to Order", you need to help save Phantom from an assassin—disguised as one of the maids he wants to hire! In "The Snow Child", you learn about a strange creature, the mysterious "snow child" born from a snow spirit and a human. Complete the stories to earn rewards such as androids, chairs, medals, equips, and more.

Haunted Mansion
Wednesday, October 19 – Wednesday, November 16
Visit the Haunted Mansion and play through four episodes of content to identify the mystery of the Masked Gentleman. Earn rewards such as a Halloween Mask and Halloween Kaleido-Spinner Event Tickets.
Halloween Kaleido-Spinner Event
Wednesday, October 19 – Wednesday, November 16
Collect Halloween Kaleido-Spinner Event Tickets from various Halloween events, and take them to the Halloween Kaleido-Spinner to spin the wheel! Depending on the color you land on, you can receive a Halloween Modest Jackpot Box, Halloween Great Jackpot Box, or Halloween Ultra Jackpot Box. Open the box to receive restorative items, Spell Traces, damage skins, spooky chairs, or the Halloween accessories set.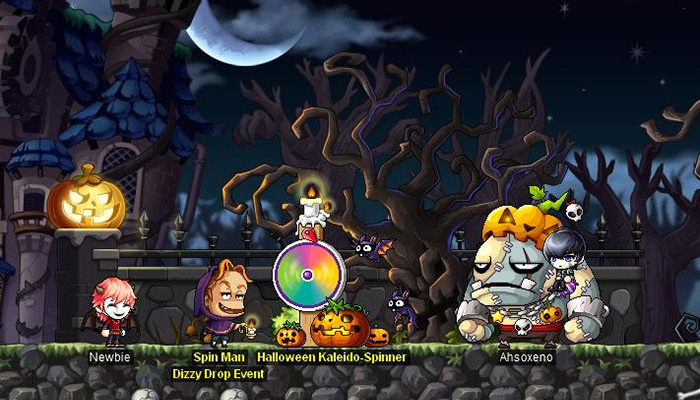 Elite Pumpkin Zombie
Wednesday, October 19 – Wednesday, November 16
A new Elite monster will be available this season—the Elite Pumpkin Zombie! Defeat it to earn Halloween Kaleido-Spinner Event Tickets and a Halloween Surprise Badge Box. Open the badge box to receive a 7-day Worn Halloween Badge. Keep hunting those pumpkins because if you defeat 100 Elite Pumpkin Zombies, you'll receive a permanent Brilliant Halloween Badge and the Elite Pumpkin Pal Chair!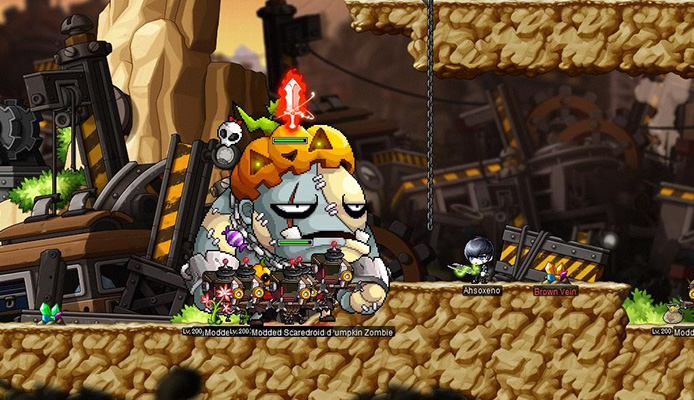 Hero's Gauntlet
Wednesday, October 19 – Wednesday, November 16
Want to be a hero? At the 15-minute and 45-minute mark of each hour between 6:00 AM and midnight (Pacific), you can click the envelope that appears above your character's head to move to the event map. Participate in a 1-on-1 battle against another Mapler, as you fight for Halloween supremacy defeating monsters, mastering jump quests, and slipping through tricky conveyer belts. Participants receive a number of Halloween Kaleido-Spinner Event Tickets.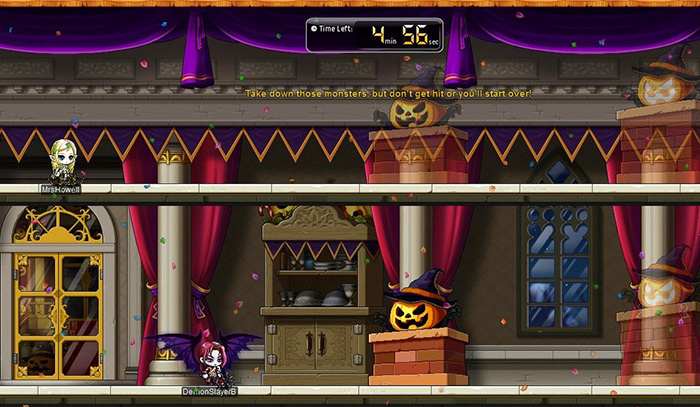 Dark Lords of Darkness
Wednesday, October 19 – Wednesday, November 16
Get supremely spooky for Halloween by collecting random quest items dropped by defeated monsters. Complete the quest and the quest item will transform into a 1-day equip. Better yet, once you complete all the quests, you have a chance to obtain rare totems!