March 3 to March 14 in the Special Promotions > Limited Time category in non-Reboot worlds only.
The Philosopher's Book is back! Crack open a book and you will receive TWO random in-game items, one from two separate reward pools. Each Philosopher's Book can only be used once.
Click here to read more about the Philosopher's Book! Note: This item cannot be purchased with NX Credit.
Philosopher's Book

Price (1):

2,600 NX

Price (11):

26,000 NX

Duration: 90 days
For this edition of the Philosopher's Book, we've improved the reward list to add:
Android Heart: Liquid-Metal Heart: STR/DEX/INT/LUK: +3. MaxHP: +100. Upgrades available: 9. Can be enhanced up to 12 Star. Trade disabled upon equip.

Androids: Damienroid, Aliciaroid. Both androids come with a shop.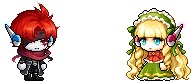 20 Slot Bags: Mineral, Herb, Title, Chair, Soul, Production, Recipe
Chairs: Train Trip Chair, Fireworks Chair, Sleepy Bird Chair, Gondola Pair Chair (if two players sit near each other in the same chair, an effect appears), Carousel Chair, Green Frog Spring Chair, Puppet Show Chair

Scrolls: Lv. 150 Star Force 12 Star 100% Enhancement, Lv. 160 Star Force 12 Star 100% Enhancement

Nodestone

Familiars: Big Spider, Mutant Ribbon Pig, Mutant Snail

We've also made changes to the reward list to remove:
Androids: TOP Schoolroids, Boy Android, Girl Android

Battle Square Herb Bag, Battle Square Mineral Bag

8, 10, 12 Slot Bags: Herb, Mineral


Chairs: Cool Cat Chair, Black Dragon Devil Throne, Chair on the Range, Igloo, Triple Volt Chair, Zombie Hunter Chair

Mounts: Rabbit Rickshaw Coupon, Double Transformation Mount Permanent Coupon, Double Red Truck Mount Permanent Coupon, Double Power Suit Mount Permanent Coupon
Remember, in addition to the above changes, you can still receive items such as:
Frenzy Totem: Totem. Trade disabled when equipped. Unique Item. STR/DEX/INT/LUK: +30. Weapon ATT/Magic ATT: +10. Grants the Monolith skill which, when used, increases monster count and monster respawn time on the current map.
Permanent Pendant Slot Expansion Coupon: Use this coupon to permanently increase the number of pendant slots in your Equip inventory. Now you will be able to equip 1 additional pendant!

Lv. 150 Fafnir weapons

Rings: Lightning God Ring, Scarlet Ring, Ultimatum Ring

Androids: BattleRoids, Succubus Android, Maidroid, Orchiroid, Lotusroid, Fairy Roids, Moonbeam Roid


Permanent Mounts: Witch's Broomstick Mount, Double Pink Unicorn Mount, Flying Bed Mount, Friend Mount, Double Aria Assistant Mount, Gargoyle Mount, Decapatruck Mount

Lv. 160 Sweetwater accessories

Android Hearts: Permanent Titanium Heart and Outlaw Heart

Gollux Pendant and Belts

Lv. 140 Empress set equips

A- and B-rank Nebulites

Special scrolls such as Unique Potential Scroll 80%/100%, 9th Anniversary Prime Scrolls

And more!