Nexon America celebrates its 12th Anniversary of MapleStory! Thursday the 12th brings some spookiness to the anniversary events with the Frankenbalrog monster, monster-shaped balloons, and Black Bean's Curious Coin Shop. There are also special Thursday-only events, and lots more! Then embrace the pink side with Night of the Living Bean. For a limited time, play as Pink Bean and earn special rewards! The Burning Project returns to help you level up, and we embrace the warm spring weather with Easter and springtime events. All this and more in the 12th Terrorversary update!
THURSDAY THE 12TH
It's Nexon America's 12th Anniversary of MapleStory, otherwise known as…Thursday the 12th! We're celebrating with lots of spooky events. Defeat the freaky Frankenbalrog appearing in town and see if you can find a Frankenbalrog Chair! Collect helium to fill up monster-shaped balloons and receive monster-themed facial accessories and a Wild Bean Balloon Mount. Are you a collector? Monsters are dropping equipment from past anniversaries, which you can donate to the Maple Anniversary Museum. Complete the collection to earn prizes! Maple Leaves are raining from the sky and you can exchange them for 12th Anniversary Coins and other items. You can also find coins inside 12th Anniversary Boxes. Take your coins to Black Bean's Curious Coin Shop and purchase Noble Maple equipment, scrolls, damage skins, chairs, and more. Complete anniversary-themed achievements to get the Thursday the 12th title!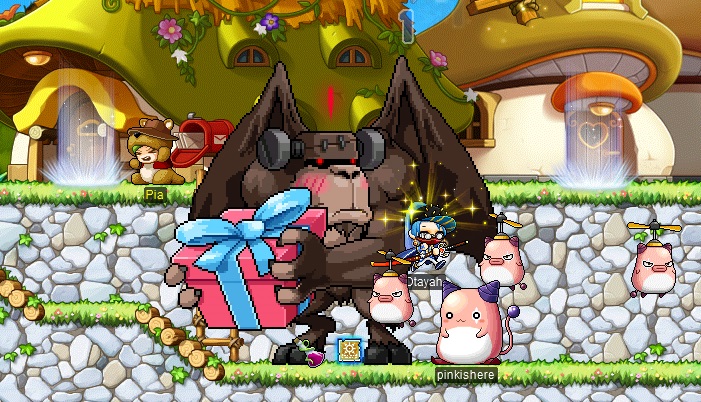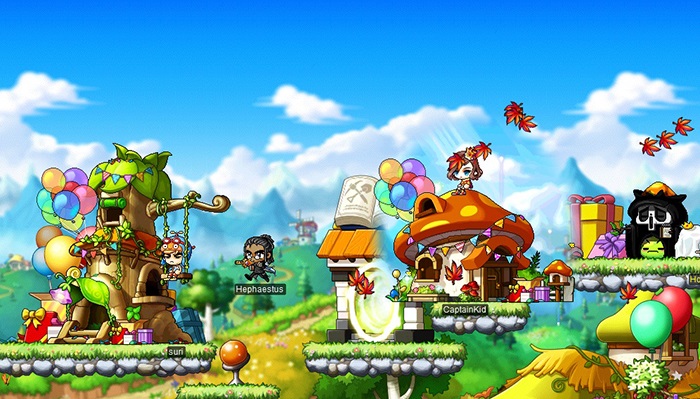 SPECIAL THURSDAY EVENTS
But that's not all—there are also special events happening on Thursdays! Every Thursday you can receive benefits such as reduced enhancing fees and free Monster Park entries, and you'll also receive a Thursday the 12th Box just for logging in! Each week's box contains rewards including EXP Coupons, Noble Maple equip coupons, a damage skin, and more. Thursday even lasts all weekend long with benefits that run through Sunday such as receiving more 12th Anniversary Coins from the 12th Anniversary Box, and an increased chance to receive a Maple Anniversary Equipment Box from Frankenbalrog!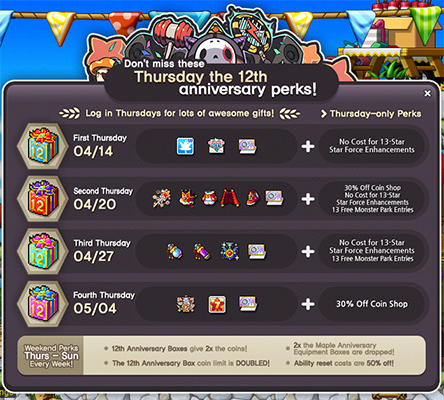 NIGHT OF THE LIVING BEAN
The mighty monster Pink Bean returns to Maple World! For a limited time Pink Bean will be available for character creation on all worlds from April 5 to May 10. Become the bean and master unique skills, including new skills like Pink Pulverizer and Go Pink Beans! Complete the missions in Pink Bean's Secret Diary to receive rewards for all your characters, including special titles and a Squishy Pink Bean Pet. Get your bean to Lv. 100 to receive a special gift box containing a medal, a Pink Bean Transformation Potion and other items!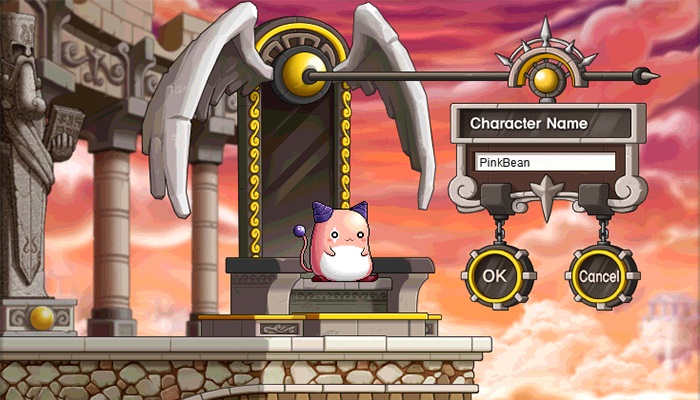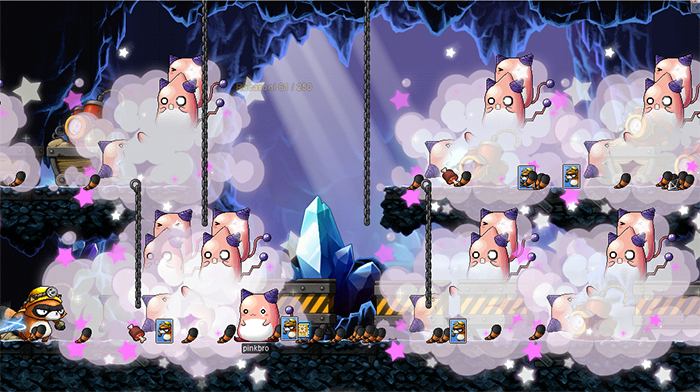 THE BURNING PROJECT
The Burning Project returns, giving one of your characters under Lv. 150 an additional two levels for every one when you level up! Keep on leveling all the way up to Lv. 150 and receive Frozen equipment boxes and a 5-hour Snail pet.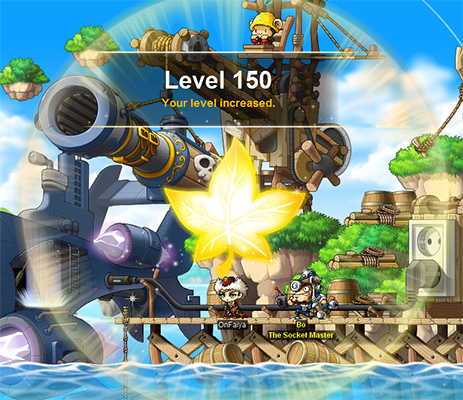 SPRING HEATWAVE EVENT
It's starting to warm up! Hunt monsters each day to receive a special reward including a slot expansion coupon, scrolls, Spell Traces, and a damage skin box. Keep hunting because you can also earn special boxes that give you one random item including trait items, cubes, restorative items, and a Sun Chair! The heatwave also causes benefits such as decreased cooldown for runes, 2x EXP from hunting Inferno Wolf, a higher daily limit for Sudden Missions, and more free Monster Park entries on Sundays.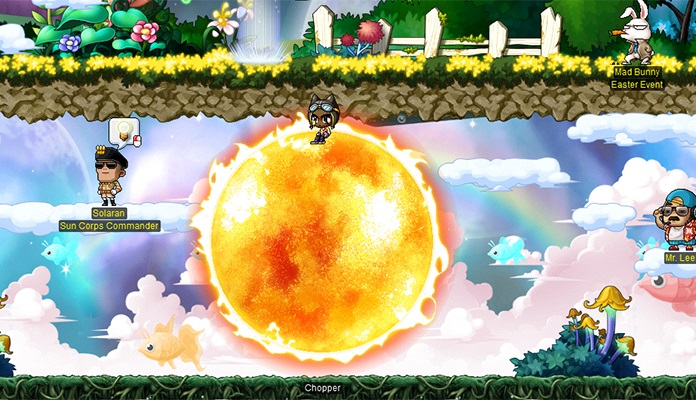 GOLDEN ROCKET RIDER EVENT
Help Captain Ovo achieve his dream of soaring through the sky on a rocket. Practice flying in the rocket mini-game, and hunt monsters to obtain Rocket Booster Points and special buffs. Earn enough points to receive 2x coupons, titles, a mount, a chair, and more. Log in each day to receive a cookie basket and you may find a Rocket Outfit or a Rocket Fuse Cape!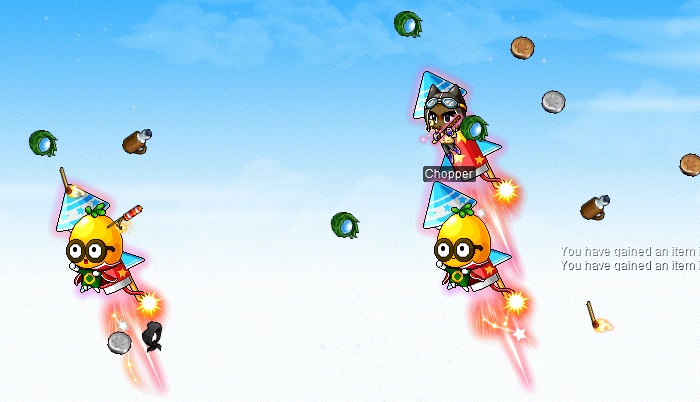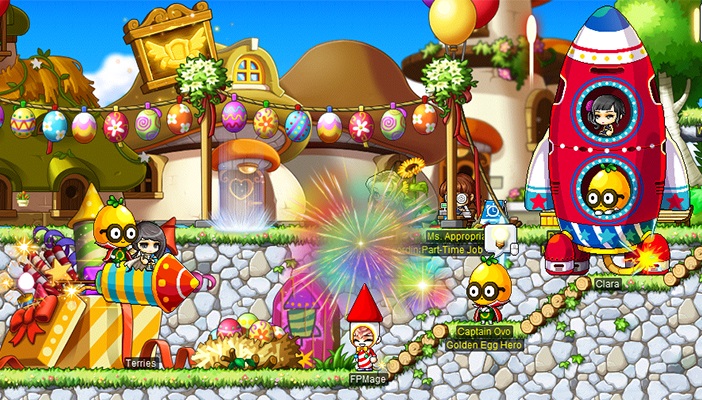 EASTER EVENTS
Hippity hop! Spring is here, and that means lots of fun events for you! Celebrate Easter by collecting Easter Eggs. Collect enough and you'll earn yourself a Moon Bunny costume! You can also color eggs to get a special buff. The Mad Bunny returns, asking you to gather different colored eggs and an Easter basket to put them in. He'll reward you with items such as chairs, potions and more.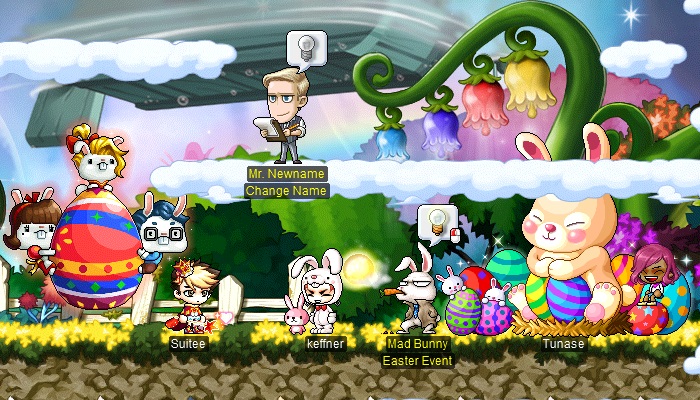 For the complete patch notes, click here!