Halloween is upon us and Maple World has been overrun with creeps... creep-tacular costumes, eerie-tastic events, and spook-ilicious treats, that is! Participate in a cauldron-ful of events and splurge on goodies, including chairs, consumables and equips.
And stay tuned for special events occurring Halloween weekend only!
Madhouse
Wednesday, October 7 – Tuesday, November 3

Investigate the mysterious Madhouse, exploring rooms and collecting clues to reveal the truth about the hospital! Each room is a puzzle that must be solved within the time limit in order for you to exit. Look out for creepy monsters lurking in the dark! Earn Madhouse Coins which can be used to purchase new totems and chairs from the hospital vending machine.

Halloween Star Planet
Wednesday, October 7 – Wednesday, November 4
Halloween has come to Star Planet! Play mini-games to earn Star Points that you can exchange for a daily Halloween costume. You can also earn a Halloween One Card background, and a Halloween piece in Game of Yut! Then join Bobble for a Halloween dance party at the square. Use Halloween action skills to follow Bobble's lead. If you dance often enough, you can earn a Spookybones Damage Skin!

Witch Malady's Secret Mission
Wednesday, October 7 – Tuesday, November 3
Frogs and Black Cats are swarming the major towns in Maple World! Help Witch Malady whip up her creepy food concoctions by hunting these pesky critters and collecting the ingredients they drop. You also can find various ingredients by defeating regular monsters around Maple World.

Olivia and the Haunted Mansion
Wednesday, October 7 – Tuesday, November 3
Maniacal monsters have overrun Olivia's haunted house and trapped her inside! It's up to you to return her safely to her family, but first you'll have to fight your way through the enemy horde. Watch out! Olivia's got a dark side. Take on Chaos Olivia and you could claim her special chair!

The Kid Gamsper
Wednesday, October 14 – Saturday, October 31
Collect ghost paint from monsters, other players and the creepy Bully Jack! Use the phantasmal paint to give Gamsper, the kid ghost, a total makeover. Once the event ends, Gamsper's appearance can be permanently kept. Complete attendance checks to earn Gamsper's Gift Boxes, which will give you 2x EXP Coupons, a Kid Gamsper chair, and more!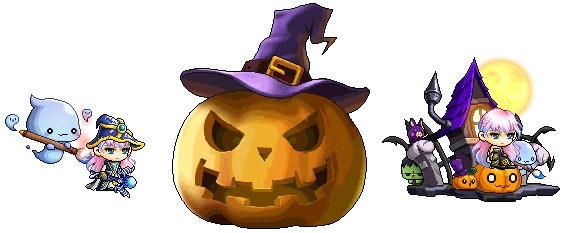 Dark Lords of Darkness
Wednesday, October 14 – Tuesday, November 10
Get supremely spooky for Halloween by collecting random quest items dropped by defeated monsters. Complete the quest and the quest item will transform into a 1-day equip. Better yet, once you complete all the quests, you have a chance to obtain rare totems!

Zombie Survival Event
Wednesday, October 14 – Tuesday, November 10
The zombies have risen! STAR Zombies and Howlers are on the loose, and monsters have a chance to drop contaminated mesos. If you pick them up you will become infected – eventually becoming a zombie! As you succumb to the virus and undergo its various stages, you will gain different stat boosts. Not a fan of being undead? Track down the vaccine and use it to cure yourself. Depending on which path you choose, you'll receive a different zombie-themed Android.