New to the Cash Shop starting April 26
Saddling up is easy when Mount Gachapon Tickets are around; we've added Cygnus weapons and 100% Mastery books to the Wheel of Marvel; experience the bonus quest rewards with Quest Boosters; and fashionistas can rejoice with the updated Surprise Style Box. Read on for details!

April 26 to May 9 in Event Tab
Redeem Mount Gachapon Tickets through NPC Oster to get a random mount skill, some of which have never been released before. You can obtain mounts that are compatible with the Soaring Mount skill, mounts that last an entire year, and mounts that have only ever been released for briefs periods of time in the past! Just imagine yourself riding on your very own Panda Mount, Cretaceous Mount, Maximus Mount, Bunny Buddy Buggy Mount, or one of many others.
Mount Gachapon Ticket (1)
4,500 NX

Mount Gachapon Ticket (11)
36,000 NX

To redeem the tickets, simply talk to NPC Oster in Henesys Park.
Read more about the Mount Gachapon Tickets here!

April 26 to May 9 in Event Tab
The Wheel of Marvels is back! Put this lucky Wheel into the Magic Gachapon Wheel [shortcut: =] and give it a good spin! Your eyes will be also spinning at the dazzling rewards.
Wheel of Marvels (1)
2,500 NX

Wheel of Marvels (11)
25,000 NX

Wheel of Marvels (35)
75,000 NX
For the first time ever, the wheel is packed with Cygnus equipment, 100% Mastery Books and Scrolls, Skill Books, and other amazing goodies. Check out some of them right here!

| | | | |
| --- | --- | --- | --- |
| | Shark Tooth Skipper Coat | | [Mastery Book] Spirit Link: Phoenix 30 |
| | Advanced Potential Scroll | | Lionheart Cutlass |
| | Timeless Blooms | | Scroll for Cape for Magic DEF 100% |
Here's how it works:
Buy a Wheel of Marvels from the Cash Shop. After moving the token box from your Cash inventory to the Cash tab of your item inventory, double-click it to receive the tokens inside. The tokens will then be ready to be used in the Magic Gachapon Wheel.
Open the Magic Gachapon Wheel window with the = key by default. If you already have a menu or skill set to the = key, open your keyboard settings and place the Magic Wheel icon on the key you'd like to use it with.
Drag a wheel token from the ETC tab of your item inventory over to the reel slot on the UI.
The number you have left of the type of token you're using will be displayed at the bottom of the window
Click "Start" to spin the wheel.
You will receive a reward when the wheel stops.
Learn more about the Magic Gachapon Wheel!

April 26 to May 9 in Event Tab
The NPCs of Maple World can be demanding with their quests, so wouldn't it be nice to be shown a little more appreciation for completing them? Plop a Quest Booster in your inventory, and you'll get double quest EXP! Thought you were happy with that 30,000 EXP from Chryse? Wait 'til you receive 60,000 EXP instead!
Quest Booster (2x EXP) – 10 days
2,500 NX

Quest Booster (2x EXP) – 30 days
5,500 NX
Still Available in the Cash Shop

April 18 to May 2 in the Event Tab
Monster Familiars, the cute but vicious monsters around your level that fight alongside you, are available for a discounted price for two weeks!
Are you still at the beginning of your training and in search of a perfect ally in combat? Then the Booster Pack is perfect for you! Booster Packs give out three random Familiars: two common and one uncommon or better.
| | | | |
| --- | --- | --- | --- |
| | | Original | Discounted |
| | Booster Pack | 5,500 NX | 3,000 NX |

Or are you a seasoned veteran who needs a rough-n-tough rare monster to back you up? Then you'll want to go with the Legendary Booster Pack. Legendary Booster Packs give out three Rare or higher Familiars: one below Lv. 50, one below Lv. 100, and one that's Lv. 100 or higher. There is also a chance that a Lv. 1 - 200 Legendary Familiar will replace the Lv. 100 or higher Familiar.
| | | | |
| --- | --- | --- | --- |
| | | Original | Discounted |
| | Legendary Booster Pack | 11,500 NX | 7,500 NX |
As a bonus, you can receive a Volatile Familiar Ticket upon purchase. Collect 20 of them to receive a special ticket that will allow you to get a Legendary Familiar.
Don't forget, each Monster Familiar card will grant you one Monster Familiar with thirty days of life. Grab these Booster Packs while they're discounted!

Prize list updated on April 26
A whole new set of exclusive styles has hit the Surprise Style Box. Each of these opulent boxes hides one random decorative cash item straight from the Maple runway. This is your chance to get exclusive new designs, permanent versions of the hottest styles, and a variety of other classics for a low price!

Surprise Style Box (1)
2,100 NX

Surprise Style Box (11)
21,000 NX
How does this work?
Each Surprise Style Box holds a random decorative item, including:

New styles exclusive to the Surprise Style Box
Permanent versions of current decorative items
45-day versions of existing decorative items

Unwanted items can be traded in for a Surprise Style Stamp or with other players through the Cash Item Trade UI.
Collect 20 Surprise Style Stamps to get 1 Mystical Surprise Style Box, which contains exclusive limited-time items!
Get the nitty gritty details here!
Which items are exclusive to the Surprise Style Box?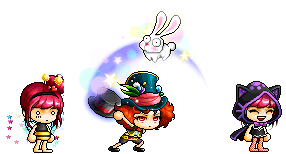 Raspberry Candy T-Shirt
Mad Hatter's Hat
Red Viva Baseball
Rabbit Out of the Hat
Lucia Hat
Lucia Cape
Honeybee Wings
Honeybee Suit
Honeybee Antenna Hairband
Which items are exclusive to the Mystical Surprise Style Box?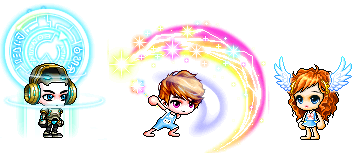 Light Chiffon Dress
Light Cotton Candy Overalls
Crystal Fantasia Wand
Memorial Angel
Intergalactic Hat
Intergalactic Gloves
Intergalactic Shoes
Intergalactic Armor
Heart Pounding Lipgloss
Get lucky!
Get NX!
Still want more?
Complete an offer and earn NX!