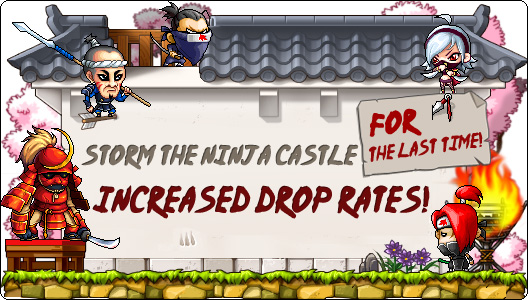 Say goodbye to the Ninja Castle because it's about to get a secret upgrade! On November 15, a group of stealthy ninjas will sneak in and demolish the old Ninja Castle to make way for the newest themed dungeon, Sakura Castle. Visit the original Ninja Castle today for a farewell party and grab some sweet loot!
When:
From 10 AM Pacific/1 PM Eastern November 7 (or after the maintenance is complete).
Until 11 PM Pacific November 13/2 AM Eastern Novemvber 14 (or when the maintenance begins).
What:
Drop rates will be doubled for all Ninja Castle quest items. Furthermore, there will be 10x drop on Jonin Throwing Stars!
How do I get there?

1. Talk to Spinel (located in most towns) to go to the Mushroom Shrine.

2. Find the Palanquin guys and go to the Ninja Castle.