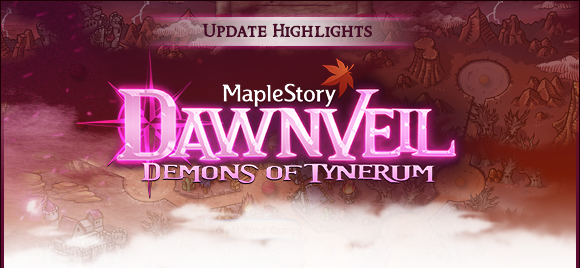 Come visit Tynerum, the land of demons, located in the mysterious new continent of Dawnveil. Explore the eerie Shadow Veil Forest, and meet Gollux (a ginormous new boss). And that's not all: Class revamps, the new "easy" boss mode, and Halloween events round out the Dawnveil: Demons of Tynerum update!





Explore Tynerum, and discover the Shadow Veil Forest (Lv. 135+), a "living wood" that rearranges itself every two hours. Grab a party and venture deep in the forest to the home of Gollux (Lv. 140+), a gargantuan new boss. Because an evil power taints the land, the World Map shows Dawnveil shrouded in fog. Visit key places to reveal them on the map.

Revamps galore! Several of the Hero, Nova, and Resistance jobs have been revamped (Mercedes, Phantom, Aran, Evan, Kaiser, Angelic Buster, Wild Hunter, Battle Mage, Demon Avenger, and Xenon have had their skills updated). Plus, Hayato and Kanna have just received their Hyper Skills.





Sure, you can fight the new boss, Gollux, on four different difficulty levels, but you can also try your hand at battling existing bosses (Zakum, Von Leon, Arkarium, and Magnus) on the new easy mode.

'Tis the season to be... spooky! Gather ingredients for Witch Malady's creepy food concoctions, keep an eye out for Black Cats and Frogs in major towns, and battle maniacal monsters in Olivia's Haunted House. Enter the new Maple Castle and defeat Mega Creamy Ghost or exchange Halloween candy with your friends for additional rewards. And don't forget: Thanksgiving is just around the corner!

Venture into a colossal new theme dungeon, and see just how rewarding halflingers can be. Feeling studious? Then head to class in Sengoku High! And if that weren't enough, the 3!6!9! and Pink Zakum events round out the second half of the Dawnveil: Demons of Tynerum update! To top all that off, all classes will be available for creation!

Explore the new theme dungeon, Stone Colossus (Lv. 150+), and lend Lavi and the Halflinger expedition a hand while you're at it. The mountain they have been exploring has started to move! Investigate the disturbance, and find the root of the corruption. Rewards include a Halflinger Expedition badge and a Kupo mount!

Red Leaf High (Lv.13+) is back - Sengoku style! Oda Nabunaga has taken over the school. You'll need to fight your way through all the classes before you can face down Mori Ranmaru! Rewards new totems (collect all three to get a special skill!) and great EXP. Sengoku High will be available from November 20 - December 3.

Participate in the 3!6!9! event and get bonus EXP for every third monster you kill! You'll want to stick around, because the bonus EXP increases the longer you stay logged in. When you need a break from raking in all that EXP, try tackling the Pink Zakum clone created by OS4 for a chance at some sweet rewards, including Black Friday Coins and a Pink Zakum Chair!

If you missed a previous opportunity to make a character of a certain class, fear not!
All classes will be open for you to try a new adventure or relive an old one!