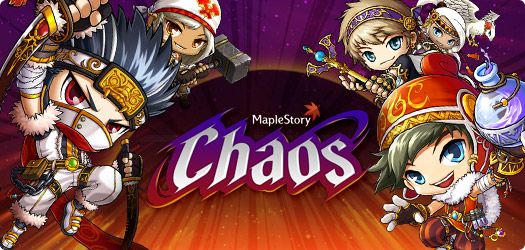 v.99 - Chaos: Age of Battle Update Notes
New Content
Battle Mode
Requirement: Lv.30 or higher
Battle Mode takes place through Battle Square. Talk to Maximus to get there. He is in most towns.
Talk to Crawson in Battle Square to compete in Battle Mode.
Fight fellow Maplers in Battle Mode to earn EXP, Battle Points, and bragging rights.
Battle Mode is all Player vs. Player combat, in which you directly attack other Maplers during a battle - a brand new experience for MapleStory!
In Battle Mode, game rules, stats, and skills are modified to create a more fair playing field.
* Fame cannot be altered while in Battle Square.
The Character Info window cannot be opened while in Battle Mode.
There are four tiers of competition based your character's level.
| | | | |
| --- | --- | --- | --- |
| League | Levels | Skills Permitted | Bonuses from Potential Items? |
| Rookie | 30 - 69 | Up to 3rd job for Dual Blade, 5th job for Evan, 2nd job for all others | No |
| Gladiator | 70 and above | Up to 3rd + job for Dual Blades, 8th job for Evan, 3rd job for all others | No |
| Veteran | 120 and above | All Skills | No |
| Legend | 180 and above | All Skills | Yes |
There are two modes available:
Free-For-All: Everyone battles each other, with unlimited lives during the battle. Time Limit: 10 minutes - Minimum Players: 4, Maximum Players: 8
Team Match: Two groups battle each other, with unlimited lives during the battle. Time Limit: 10 minutes - Minimum Players: 6, Maximum Players: 12
You cannot enter Free-For-All while in a party.
Battle Mode Gameplay
Battles begin after the minimum number of participants has entered the map.
To leave a battle map before a battle is over, click the Leave Room button that is located where the Cash Shop button normally is at the bottom of the screen.
There are objects that may help or harm you in some of the battle maps.
Different effects will appear depending on the damage.
When your HP reaches 0, you will revive in the safe area and start the battle again after three seconds.
You are restricted from using regular potions and other items in your inventory while in battle maps.
* Unique items regularly spawn in battle
Picking them up immediately uses them. There are lots of different items; most help you, but some can hinder you.
Be careful of the Random Boxes, with the question marks on them. They can temporarily double the scores you earn, grant invincibility, transform you into a monster, or lower your HP or MP.
Champion and Rage
Periodically, the system will name the first place character as [The Champion].
A star will appear on top of the character's head if chosen. If he can survive for a minute, he can get extra EXP and points.
Players who defeat the champion in less than one minute can get extra EXP and points.
Upon the fifth revival of the Champion, he will get a Rage buff that raises ATT and DEF for two minutes.
Battle Mode Rewards
Score points by defeating your opponents. Higher scores will give more EXP and BP (Battle Points).
BP can be traded in for Gallant Emblems through the BP Exchanger in Battle Square.
Gallant Emblems can be used to purchase various items from Larson in Battle Square, including various accessories, Mystery Scrolls (using one gives you a random scroll), and Mystery Recipes (using one gives you a random crafting recipe).
Gallant Emblems are also required ingredients for some crafting recipes.
Many of the items sold by Larson give bonus Battle Mode ATT.
Larson also sells basic arrows and crossbow arrows for mesos in case you're running low.

A character's Battle Mode rank is displayed next to "Rank" in the Character Info window.
You can check you Battle EXP and current Battle Points in your Character Stat window.
Updated Returning Content
Golden Temple: Equipment Explosion
07.20.2011 - 08.09.2011
An all new Golden Temple experience is available. You can access the Golden Temple through the Dimensional Mirror, which is in most towns.
Golden Temple monsters now have a very high chance to drop Lv.35-64 Maple weapons and even Reverse and Timeless weapons!
Golden Temple monsters also have a chance to drop Musical Note Chairs.
All players will receive one free Golden Ticket per Cash Inventory on 07.20.2011. Go to the Cash Shop to get your free ticket.
While in the Golden Temple use the portals or talk to the NPC closest to a portal in order to open the menu to select a mini dungeon.
Players Lv.70 and above can enter the mirrored side of the temple, which has more powerful monsters than the regular side.
Use the yellow ring portal near Somchai to moved between the regular and mirrored sides of the temple.
You must have a Premium Golden Ticket to enter a mini dungeon. Premium Golden Tickets can be obtained by purchasing Golden Temple Invitations in the Cash Shop.
The inititial quests for the Golden Temple have been removed. The monster hunting quests still remain.
Golden Temple monsters grant enhanced EXP when defeated, as always.
* You can collect Sunbursts from Goblins in the Golden Temple.
If you collect five Sunbursts, you can enter the waiting room to fight Ravana, the boss monster of the Golden Temple.
Sunbursts expire after a limited amount of time.
You must have at least two people in your party to fight Ravana. Each party member needs five Sunbursts to enter the waiting room.
Ravana has a chance to drop the rare Ravana Helmet. STR/DEX/INT/LUK +18, MaxHP/MP +60, Weapon/Magic DEF +100, ACC/AVOID +10, Speed +5, Jump +2. Required Lv: 70
Fame
The amount of fame you can acquire has been increased from -30,000-30,000 to -99,999-99,999. Your Charm EXP and even level can be increased or decreased based on your Fame.
New Events
Nova New World Events
07.20.2011 - 08.19.2011
The Nova world is now open for brave adventurers and intrepid explorers. New world events for Nova settlers include:
Pioneers of Nova: Accept the quest from Cassandra, reach at least Lv.70, then talk to her again to complete the quest. Reward: Nova Bandana - Lv.70, STR/DEX/INT/LUK +18, Weapon DEF/Magic DEF +180, ACC/AVOID +25, untradeable
Teo's Nostalgic Reminiscing I: Accept this quest from Teo in Lith Harbor. Complete it and earn 100,000 mesos.
Teo's Nostalgic Reminiscing II: Accept this quest from Teo in Lith Harbor. Complete it and earn 200,000 mesos.
Battle Mode Boom Up Event
07.20.2011 - 08.16.2011
Requirements: Lv.30 or higher and 2nd job advancement completed
Battle Points earned from 11:00 AM through 6:00 PM Pacific will be multiplied by 1.5.
Battle Mode Support Event
07.20.2011 - 08.16.2011
Requirements: Lv.30 or higher and 2nd job advancement completed
Complete a series of Battle Mode-related quests to earn prizes. Speak to Rosette in Battle Square to begin.
Honor of your class: After completing the Battle Mode...Begin! quest, accept a quest from the appropriate NPC for your class. Explorers - Dances with Balrog / Dual Blades - Lady Syl / Cygnus Knights - Neinheart / Resistance - Claudine / Aran - Lilin / Evan - Mir
Prizes include Gallant Emblems, a temporary ring, pendant, belt, and shoulder accessory, and a random permanent version of one of the accessories.

Learn about other events already in progress by
clicking here
.
Cash Shop Update
Miracle Cube Super Sale: You can buy one Miracle Cube for 20% off, or a bundle of eleven for 30% off.  These Miracle Cubes expire after seven days.
Gachapon Super Sale: Gachapon Tickets and Remote Gachapon Tickets are on sale for half of their regular price. These 50% off tickets expire after seven days.
Golden Temple Invitations are on sale in stacks of 1, 11, or 35 in the Event tab. Double-click one in in your item inventory to receive a Premium Golden Ticket, which allows you to enter Golden Temple mini dungeons an unlimited number of times for one hour.
A 90 day version of the Fish equip for the Persian Cat pet is available in the Pet Equip. section of the Pet tab.
Canned Food for the Persian Cat pet is available in stacks of 1 or 11 in the Pet "Use" section of the Pet tab
Gachapon Update
07.20.2011 - 08.09.2011
All Gachapon locations
The new Locker Chair is available.
The new Bubble Bath Chair is available.
Learn about other limited time Gachapon items that are still available by
clicking here
.
Known Issues
The description for the Energy Drink - Mobstar is misphrased. Each Mobstar can only be used once. If you can obtain multiple Mobstars, there is no restriction on how many you can use in a day, unlike most Fatigue potions.
The Master Alchemist quest shows an incorrect date in the In progress and Completed tabs of the quest log.
The Pink Spring Jacket's name is missing.
You will be in CBD in Singapore after exiting the Free Market if you entered from The Nautilus.
The issue with sitting on the Cake Chair will have to be resolved in a future patch, currently scheduled for 08.10.2011.
The issue of Law Officer mount not being available in the skill inventory will have to be resolved in a future patch, currently scheduled for 08.10.2011.
* The Bubble Bath Chair is mislabeled as "Bobble Bath Chair."
Want to discuss the update notes with others?
Click here to go to our forum!