Gachapierrot/Gachapon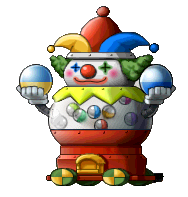 The Great Gachapierrot (also known as the Gachapon) dispenses all kinds of items in exchange for Gachapon Tickets. Some of these items cannot be found anywhere else! Gachapon Tickets can be found in the Game section under the Etc. tab in the Cash Shop. Each Gachapon Ticket can only be used once.
Gachapon Ticket
Remote Gachapon Ticket
Regular price:
1,000 NX (1)
10,000 NX (11)
30,000 NX (35)
Regular price:
1,050 NX (1)
10,500 NX (11)
31,500 NX (35)
More about Gachapon
Many items are in Gachapon permanently, however some are in for a limited amount of time.
Gachapon machines contain equipment, scrolls, restorative items, chairs, and mount skills.
Every Gachapierrot machine contains the same items, no matter where it is located.
If you have old Nebulite or Mount Gachapon Tickets, you can trade them in for normal Gachapon Tickets by talking to the Great Gachapierrot.
How and where to use Gachapon Tickets
This is how you "Gach":
Buy a Gachapon Ticket. Buy in bundles to save on the price of each ticket!

 
Move the Gachapon Ticket to your item inventory, then exit the Cash Shop.
Go to a Great Gachapierrot near you and double-click on the machine.
Click START or hit your Enter key to use a Gachapon Ticket.
The last 10 prizes you have won will be listed on the right-hand side of the window.
Remote Gachapon Tickets can be used from most maps to access the Gachapierrot machine. Double-click a ticket to open up the Gachapierrot UI window.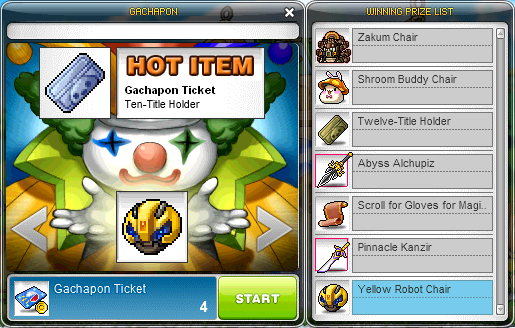 Gachapon machines are located in the following areas:
Henesys Market
Perion
Kerning City
Lith Harbor
Sleepywood
Nautilus
Ereve
Rien
Orbis
El Nath
Ludibrium
Aquarium
Leafre
Mu Lung
Herb Town
Ariant
Magatia
Edelstein
CBD (Singapore)
Trend Zone Metropolis (Malaysia)
NLC Town Center
Mushroom Shrine
Showa Town: Spa (M) & Spa (F)

Powergacha Ticket
Accept the "Getcha Powergacha" quest from the Maple Administrator and use 20 Gachapon Tickets in the Gachapierrot. You can then turn this quest in to receive 1 Powergacha Ticket. Powergacha Tickets have a better chance of getting high-end items in the Gachapierrot machine than normal Gachapon Tickets.