Perfect Innocence Scroll
| | | |
| --- | --- | --- |
| | Perfect Innocence Scroll | 9,900 NX |
The Perfect Innocence Scroll has a 100% rate of success, and resets ALL upgrades EXCEPT potentials. This includes:
Number of Upgrades Available
Number of Hammers Applied
Enhancements Applied
Any evolution or growth (returns the item to its pre-evolution/pre-growth stages)
However, this scroll cannot be used on Nebulite-infused items. For anything else, this is the perfect way to give your beloved item a new beginning!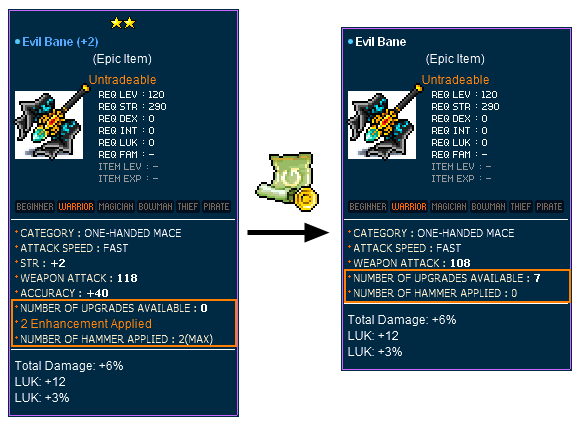 Guardian Scrolls
Guardian Scroll
3,000 NX
Guardian Scroll (11)
30,000 NX
Guardian Scrolls keep your scroll from being destroyed if a scrolling attempt fails.
To use:
Drag and drop a Guardian Scroll onto the equipped item before scrolling it.
Guardian Scrolls will be used up regardless of whether the upgrade scroll was successful.
Guarding Scrolls can be used with Shielding Wards and Shield Scrolls to triple-secure your investment. Check out the details here!