Android Shop
Regular price:
3,500 NX (90 days)
Android Shops are stores that come with Androids! The Succubus Android Shop comes with the Succubus Android, and the Orchiroid Android Shop comes with the Orchiroid Android. Androids can be obtained from an Android Coupon. Like other general stores, Android Shops have a variety of restorative items and more available for purchase. You can access the Android Shop from most maps and you can use it for an unlimited amount of time until your Android expires.
When the Android Coupon is available for purchase, it can be found in the Special Promotions > Limited Time Specials category in the Cash Shop.
You can access the Android Shop while your Android is equipped by clicking on the "AD" tab of the "Equipment Inventory" window, and then click on the "Shop" button on the upper right. You can also double-click your summoned Android to open the shop.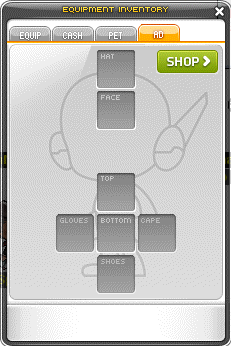 Here are the items in the shop:
| | |
| --- | --- |
| Item | Price |