Level up With Eluna
Join other players as you mine the riches of Eluna in this event to earn EXP and level up! Accept the invitation to travel to the colony planet of Eluna, a world rich in natural resources. Players Lv. 33 and above can enter, and everyone must work together to receive as many resources as possible within the time limit!
 AVAILABLE ON JULY 26, 2017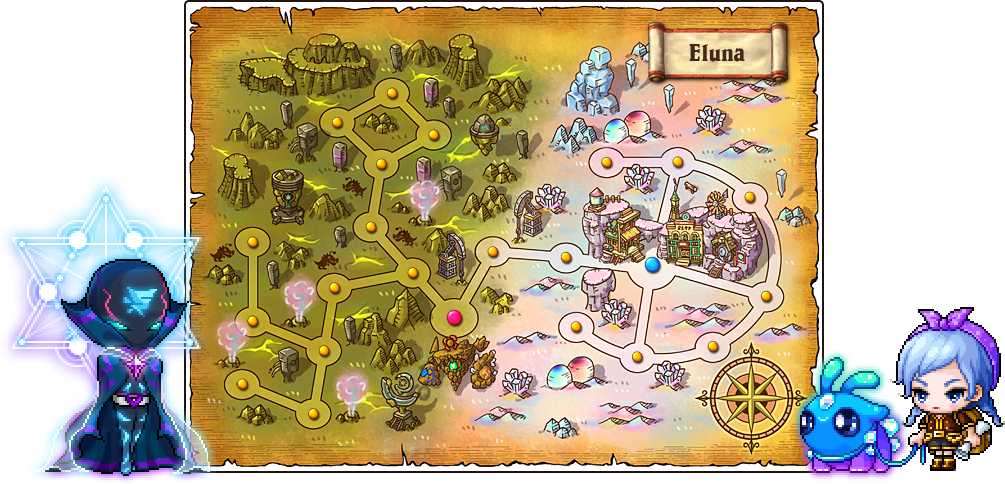 Join an Exploration Team
Become part of an exploration team, where 40 players work together to earn EXP. The more minerals you acquire, the more EXP you can receive! Keep tabs on your teammates and try to claim the top rank by earning the most EXP.



Mine Those Minerals
There are multiple ways to mine minerals. You can receive minerals by hunting monsters, harvesting in fields, completing missions, overcoming traps and obstacles, and taking down a boss.


Look out for geysers and quicksand! There are many dangers to be found exploring a new planet, and you don't want to slip up.

Dismantle the giant golem, and take down a pack of monsters to protect your hard-earned minerals and get even more EXP!

When the time is up, you can review how well your team did, and earn rewards based on your final score. You can receive more rewards by completing repeatable quests!