Get charged up for summer with the Override: Evolve update! Prepare to become stronger than ever with the addition of new 5th job advancement skills for all classes, and an upgraded V Matrix Skill System. Then help your characters grow and earn buffs by joining the Legion System! Omega Sector returns and the M-Forcers are waiting for you to join them on an interstellar adventure. Boss Lucid Hard Mode, Better Maple improvements, and exciting summer events are also on the way!
NEW 5TH JOB SKILLS
It's time to go beyond V and get even stronger! New 5th Job skills will be added for all classes, allowing you to become more powerful yet. Check out amazing skills such as Cub Cavalry for Beast Tamer, which summons a herd of cute critters that come to your aid, and Wyrmking's Breath for Evan, a fusion skill that lets Evan infuse Mir with magic causing him to grow bigger and release a blast of elemental energy. The V Matrix Skill System will be upgraded so that you can fill a new maximum of 14 slots, and unlock a new slot every 5 levels instead of every 6 levels. In addition to brand-new skills, several existing skills will also be updated!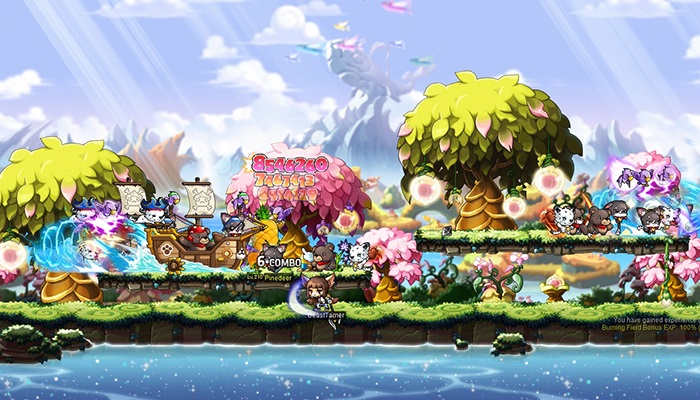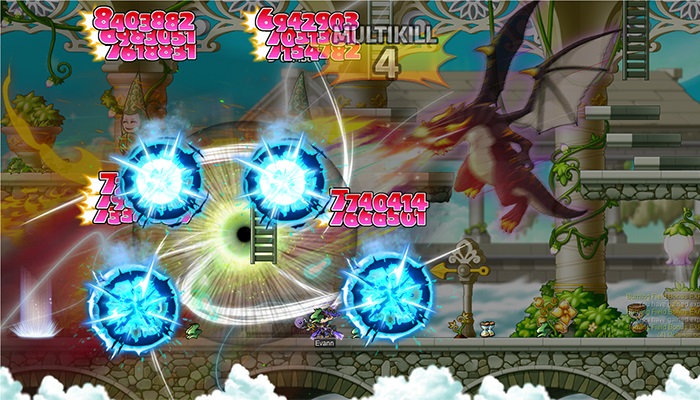 LEGION SYSTEM
Join the Legion System and help your characters in the same world get stronger together! The Legion System is replacing Character Cards and Part-time Jobs. You can assign your eligible characters to open spaces on the Synergy Grid and collect different grid and member bonuses. Use the Synergy Grid like a puzzle to fit your characters in just the right way to maximize your bonuses! Then join the Legion Raid to take down a fierce dragon and earn Legion Coins. Use these coins to advance your Legion ranking and purchase useful items in the Legion Coin Shop. Depending on how many coins you earn per week, you may land a spot on the Legion Coin Collector ranking which can reward you with a chair and mount!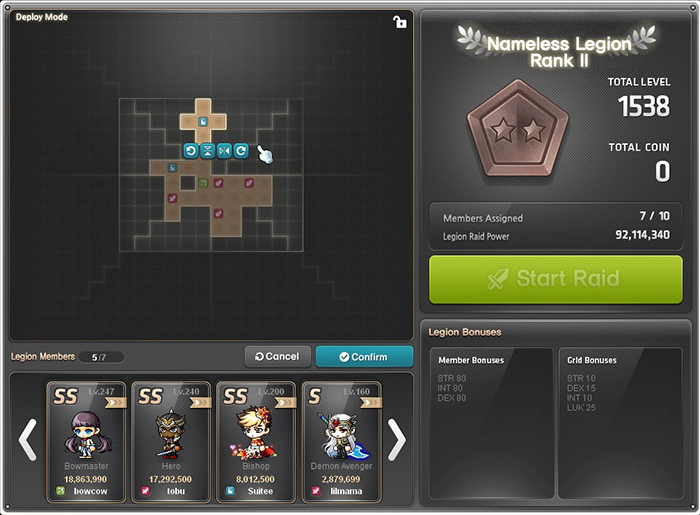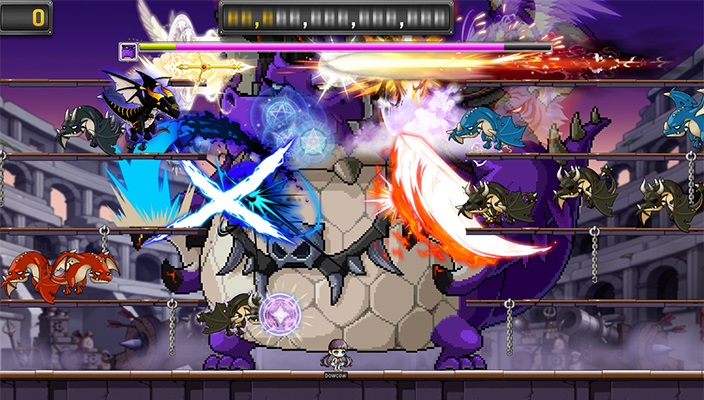 RETURN OF OMEGA SECTOR
The interstellar theme dungeon returns! Players Lv. 165 and above can visit the newly reopened area of Omega Sector. Join Dr. Kim and the M-Forcers as they make plans to sneak into a nearby UFO. Help them investigate the mysterious craft, and work together to defeat new monsters including the squeaky clean new boss, OMNI-CLN!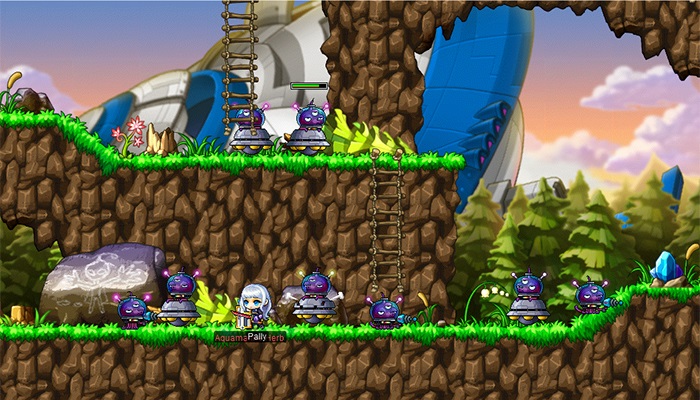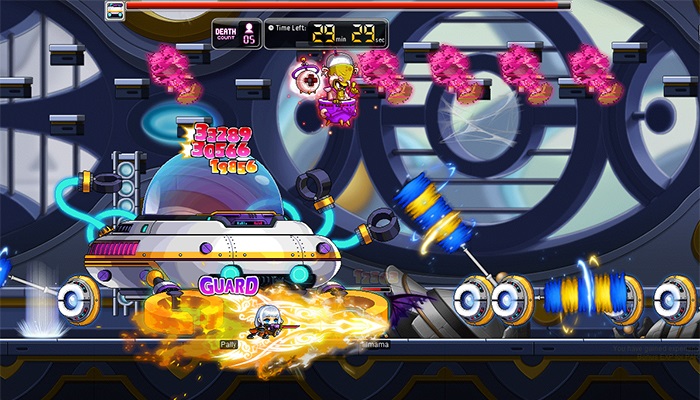 BOSS LUCID HARD MODE
Lucid has uncovered her true power and is more deadly than ever before! Only the most prepared players can hope to take on Lucid in Hard Mode. Join a party and fight to the end in order to access new rewards including a Dreamy Belt, Vanquisher Of Nightmares medal, and Lucidroid.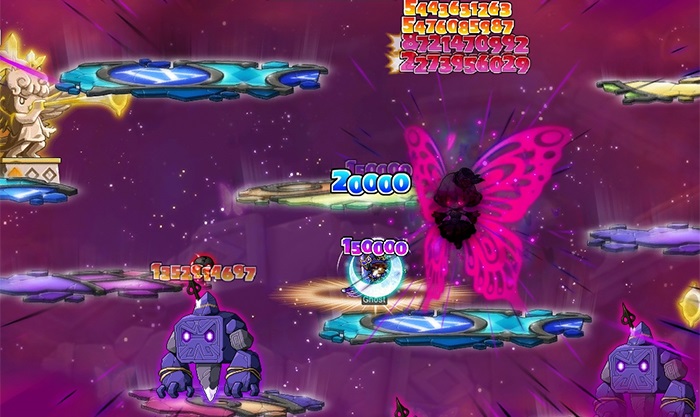 A BETTER MAPLE
We're always trying to make a better Maple, and we have several improvements coming in this update! Here are just a few of them:
Item buffs will display when equipping a bonus EXP item such as the Pendant of the Spirit.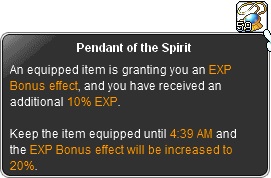 A confirmation window will be added when applying a new damage skin.

You can purchase arrows and reload throwing stars and bullets from NPC Nack in Ardentmill.

A search function will be added to the "In Progress" tab of the quest window so that you can search by quest name.

The minimum number of party members that can enter Ravana will be changed to 1.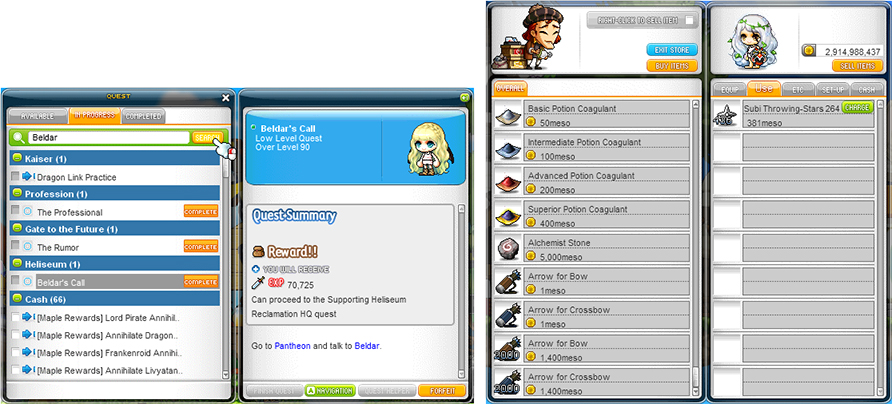 OVERRIDE EVENTS
The summer kicks off with lots of events! Create a new character during the Breakthrough Override Event, and receive a special gift box as you level up between Lv. 140 - Lv. 200 and complete missions. Each Breakthrough Box contains useful items including Breakthrough Potions which give you an entire level if you use them soon! You can also earn reward boxes in the TakeOver Event. Complete your mission for each of four timed stages to receive four different reward boxes per day. You can also collect Override Coins from various events to spend at the Override Coin Shop. Then get ready to reinvent yourself with the Character Name Change event!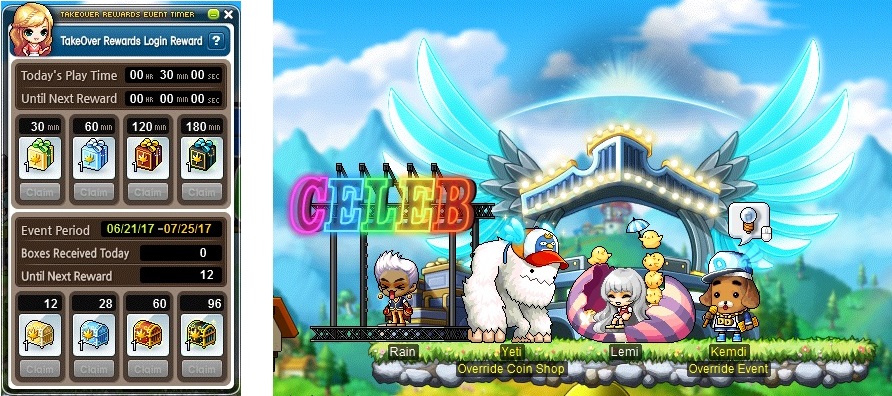 For the complete patch notes, click here!