It's time to get super spooky as Halloween approaches! Hunt for Halloween Candy and earn costumes and other rewards in the brand-new Hallowkitty's Halloween Bash event. Creepy event favorites such as Madhouse, Dark Lords of Darkness and more are returning too. We have cats galore in the Cat of All Trades event which gives you special missions allowing you to customize and decorate a cute kitty! Thanksgiving events, Maple Music Festival, and more fun is also coming your way in MapleStory: Midnight Monster Bash!
HALLOWKITTY'S HALLOWEEN PARTY BASH
Enjoy the spooky season with Hallowkitty! Hunt monsters to collect Halloween Candy, and use special pumpkin-flavored candy to enhance your stats. Get in the mood by using a Cat-O-Lantern Summon, whose appearance and size changes based on its level. As you grow your Cat-O-Lantern you can earn rewards such as Halloween masks, scrolls and cubes, and a special chair! Trick or treat with others by collecting candy and sitting on the Trick or Treat Chair. Each time someone clicks your chair, they'll get a piece of your candy! Henesys and Leafre are decorated, runes and Elite monsters are Halloween-themed, and the haunting monster Bully Jack is making an appearance in town!
Click here to learn more about Hallowkitty's Halloween Bash!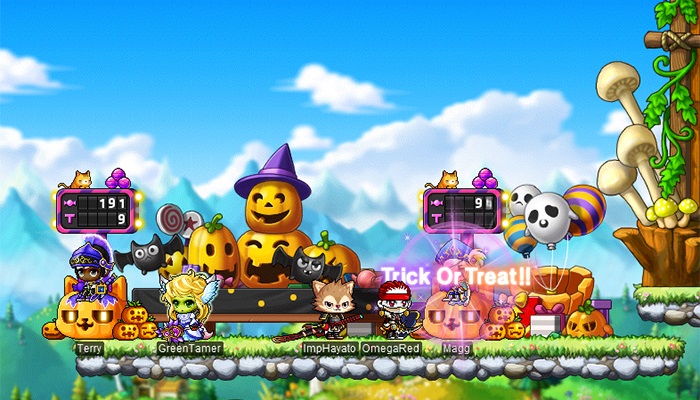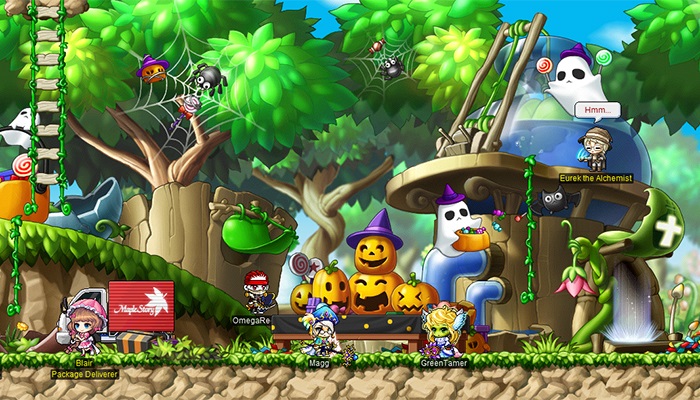 HALLOWEEN EVENTS
The Madhouse Dungeon returns! Explore multiple rooms in the mysterious building, collecting clues that will reveal the truth about the hospital. Each room is a puzzle that must be solved within the time limit in order for you to exit. Keep your flashlight close and avoid powerful monsters lurking in the darkened corridors! Then venture deep into Murgoth Dungeon to face off against fierce enemies based on the five jobs of MapleStory. Once inside, you have to hurry to find three Soul Shards before your opponent does! Collect talismans dropped by defeated monsters during the Dark Lords of Darkness event to complete quests and earn special limited-time cash equips. Once you complete all the quests, you have a chance to obtain rare totems!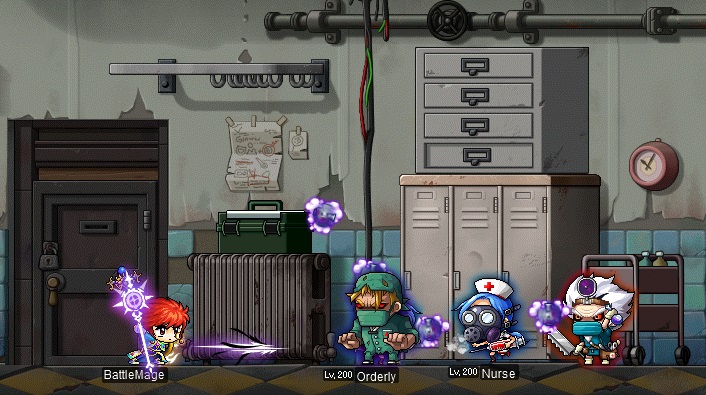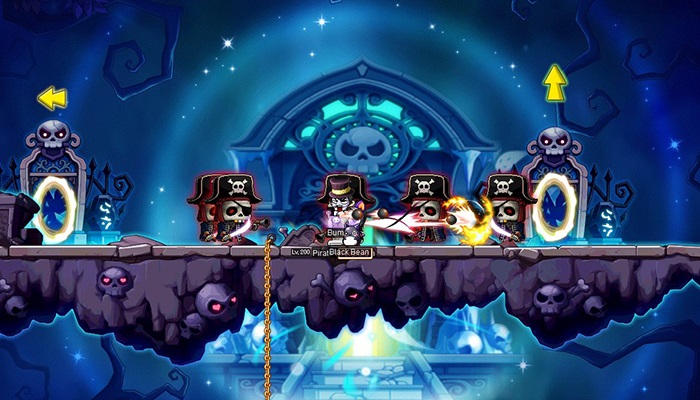 CAT OF ALL TRADES EVENT
Get your own customized cat to help you explore more in MapleStory! In this event, you can complete special missions to receive decorations for your Custom Kitty. You can change the face style, fur pattern, and accessories to create a kitty that's unique! Hunt monsters and specific bosses, and complete areas such as Monster Park or Nett's Pyramid. Repeat daily missions to build up the courage, curiosity, and stamina of your Custom Kitty. Earn rewards including a medal, damage skin, and ring. You can even receive equips to dress up like a cat yourself!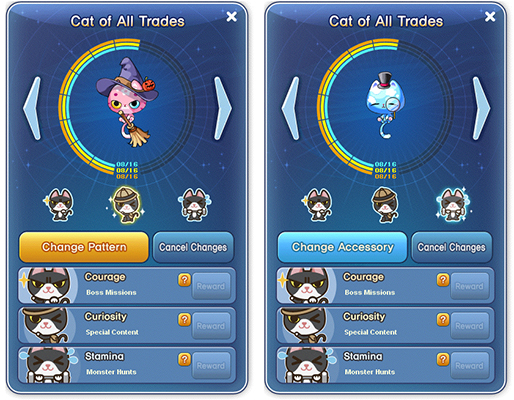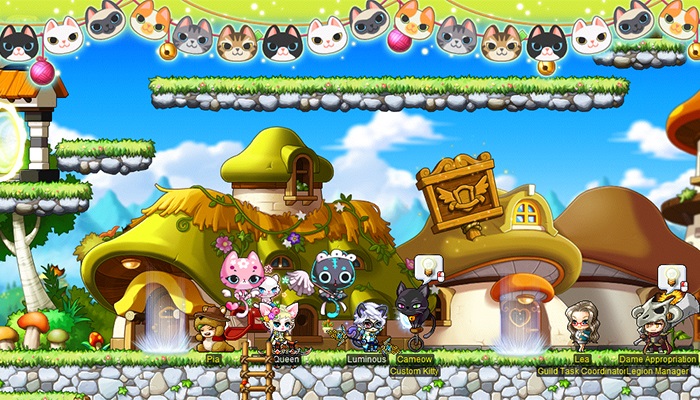 MAPLE MUSIC FESTIVAL EVENT
Then the Maple Music Festival returns! Duck and dodge in the Limbo Rhythm mini-game, hang out with other players at the BBQ party, and enjoy the fireworks festival on the weekend! Make sure to collect MMF Coins throughout the event to exchange for fun items such as chairs and equips.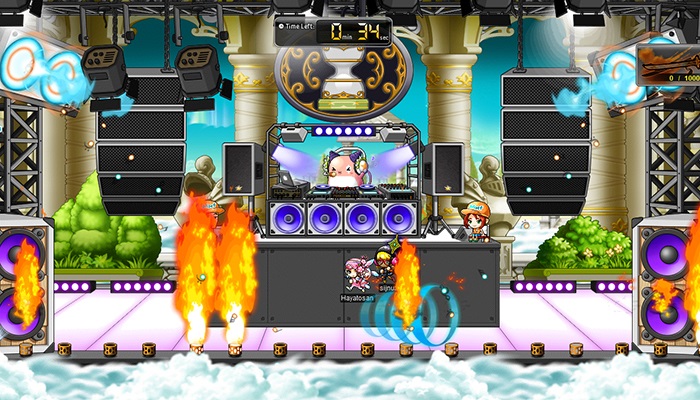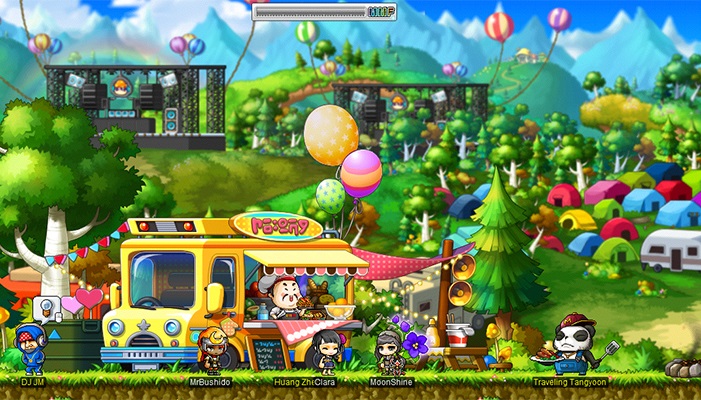 THANKSGIVING EVENTS
Get ready for the feasting event of the year by hunting Plump Turkey monsters and collecting the mouth-watering food items they drop. You may also find seasonal equips so that you can dress for the occasion! You should also keep an eye out for Turkey Eggs. If you collect enough of them, you can turn them in to Cody to be rewarded with delicious restorative items, scrolls, or even a Turkey Pet! And what's Thanksgiving without the annual Thanksgiving fight—food fight, that is! Bianca accidentally brought the Thanksgiving feast to life, so you've got to take down the tasty monsters and advance through as many stages as you can. You'll be rewarded with buffs and drop coupons.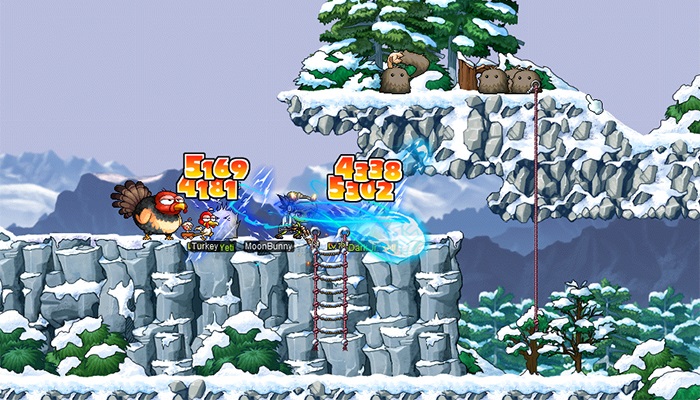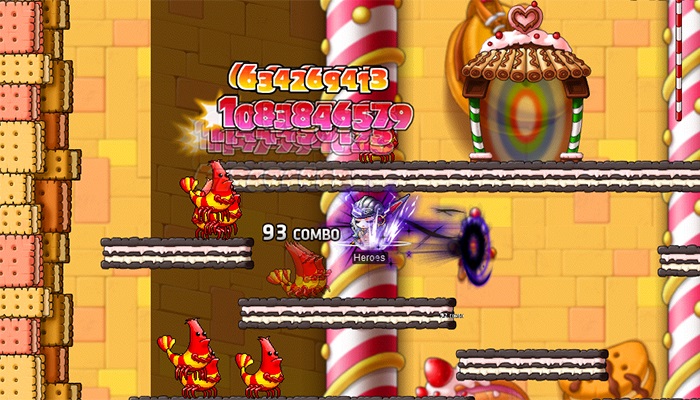 MORE EVENTS
Maplehood Watch returns! Hunt monsters and you be rewarded with a random Cash items including: Gachapon/Surprise Style Box items, hair/face coupons, or enhancing items depending on what day it is. Then collect sweet rewards in the Sugar Rush Honey Flow event! Maple World is dripping with honey, coating runes and monsters alike. Take down the elite Broken Honey Pot monster, and complete a daily attendance check to earn scrolls, cubes, and a Honeybee Damage Skin Coupon!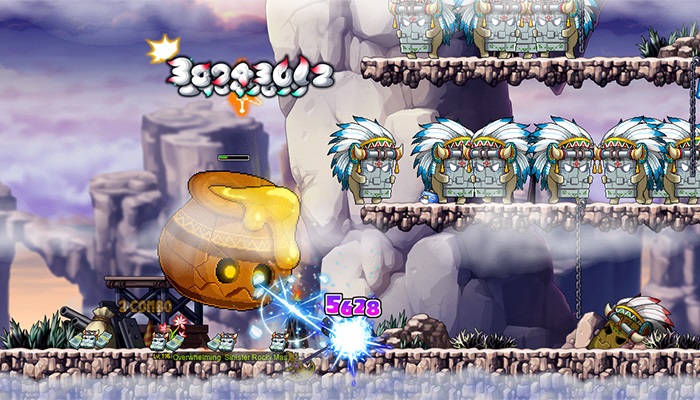 For the complete patch notes, click here!