Meet new playable character Cadena! Wield a chain as you swing around, ravaging your enemies. New 5th job skills will also be available for all characters. We're adding some Better Maple improvements and new Maple Achievements to give you the best possible experience! Return to Arcana to save Rock Spirits, and check out lots of great Nova events. All this and more is coming your way in MapleStory Nova: Liberation of Cadena!
NEW PLAYABLE CHARACTER: CADENA
Meet brand-new character Cadena, the only survivor of Magnus's attack on the Heliseum royal family. Raised by the Shadowdealers in the sketchy backwater town of Savage Terminal, Cadena has a streetwise edge and excels at close combat. She utilizes Thief equipment, and her main stat is Luck. Cadena is honing her skills as she prepares for revenge against Magnus. Armed with her trusty Chain, Cadena can swing to different platforms or pull an enemy in close to her. She also has the ability to master various weapon types, and can smash enemies with skills highlighting a shuriken, shotgun, and spiked bat!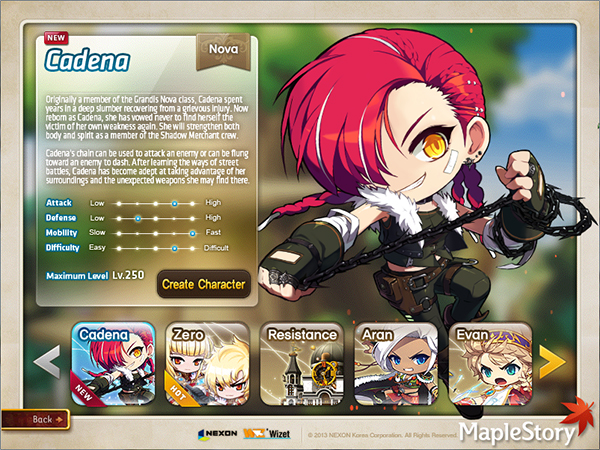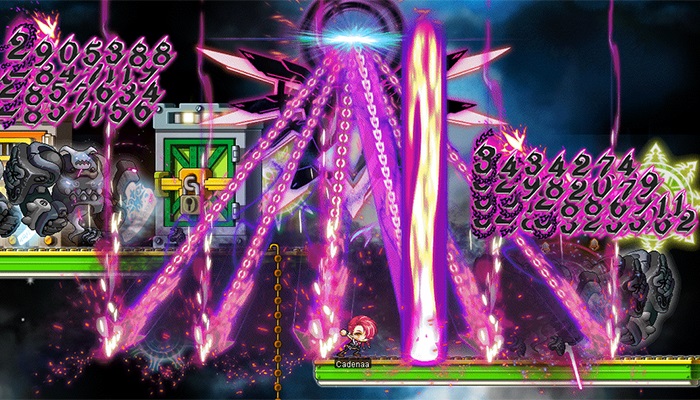 5TH JOB SKILLS
The 5th job keeps getting better with the addition of new 5th job skills for all character job categories (Warrior, Magician, Bowman, Thief, and Pirate). There will be something for everyone, including Cadena! Become more powerful than ever with skills including Ethereal Form, which allows Magician jobs to temporarily move to another dimension to escape taking too much damage. Pirate jobs can push their weapons to the max with Overdrive to gain more attack for a limited amount of time. Cadena uses Chain Arts: Fury to hurl a gigantic chain striking multiple enemies!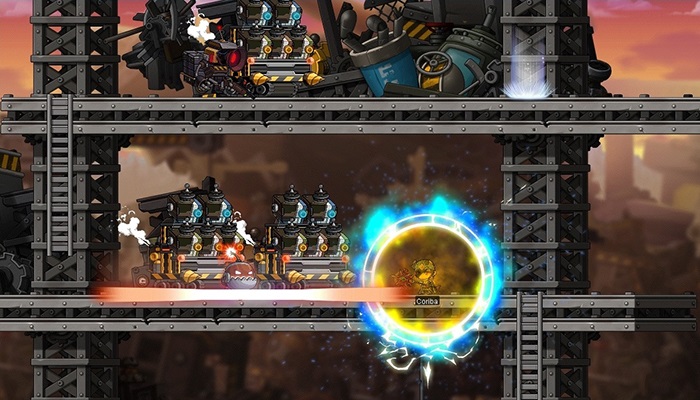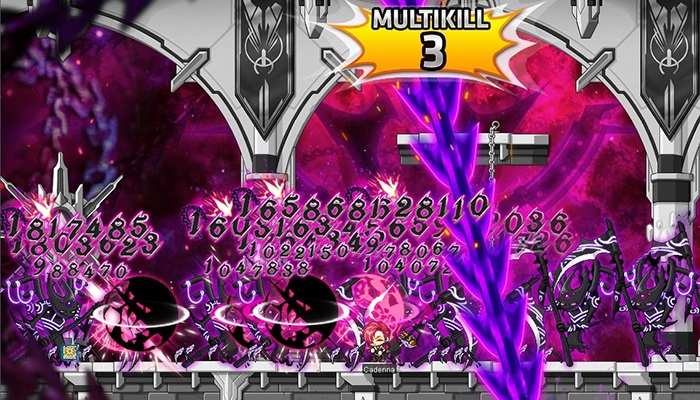 A BETTER MAPLE
We're always trying to make a Better Maple, and we're focusing on several areas in this update! Here are just a few of the upcoming improvements:
Character slots will be increased, allowing a max of 42 characters to be created per world.

The number of characters and the number of character slots that you have will be displayed on the character selection screen for a few seconds when you first log in.

Maple News, an in-game news browser, will be added so that you can learn about the latest news and updates right when you log in to the game.

If you want to throw away a chair, an extra confirmation screen will appear for you to double-check before actually removing the item.

Your Soul Weapon UI settings (on/off) will be saved when you close the client.

Throwing Stars and Bullets can now be recharged at the Mu Lung Point Shop.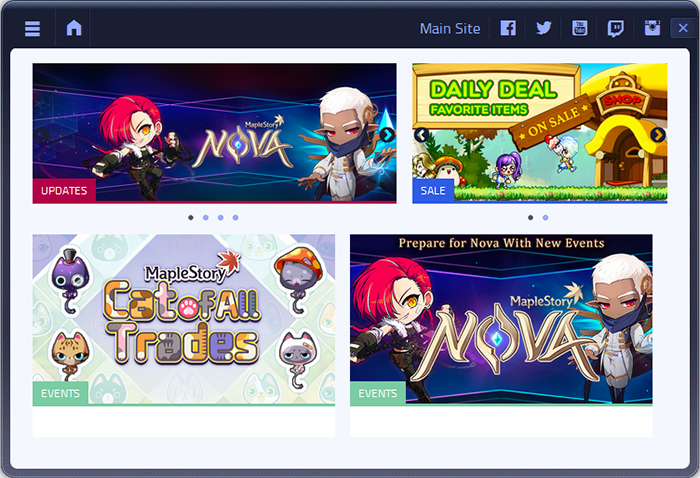 MAPLE ACHIEVEMENTS
Track your in-game progress with new Maple Achievements! There are several categories including leveling up, skill-related, exploration and questing, hunting monsters and beating bosses, event-specific, and more! Achievements will be shared across all characters on the account, regardless of world. A helpful notifier will show you which achievements you still need to complete. When you complete an achievement, you'll earn Achievement Points which determine your Achievement Rank. Different ranks give you different insignia skills with unique visual effects. You can also receive rewards when you complete certain achievements!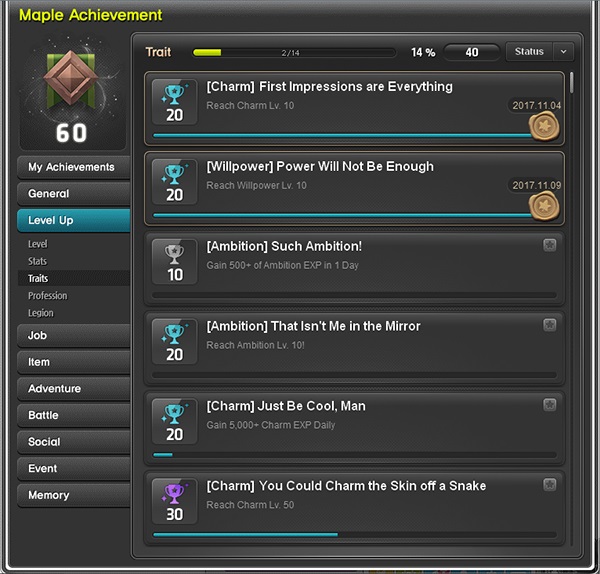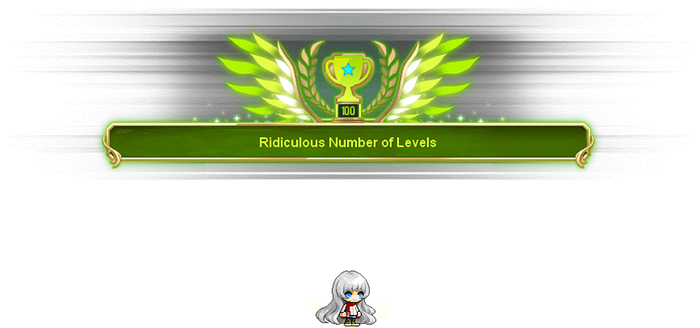 SPIRIT SAVIOR
Return to Arcana and defeat monsters in the new Spirit Savior daily dungeon! Many of the Rock Spirits have become trapped, and need someone like you to rescue them. Look out for enemies trying to hinder your progress, including Poison Spirits and Spirit Remains. Once you save a Rock Spirit, it will follow you around the map so that you can escort it to safety. Save as many as you can to earn Spirit Coins which are exchangeable for the Arcane Symbol: Arcana!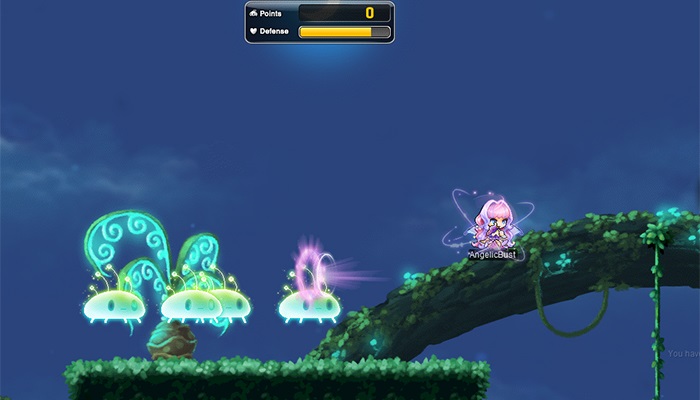 NOVA EVENTS
The Character Name Change event is returning, allowing you to reinvent yourself with a brand-new name! Nova Boxes containing Nova Coins will drop from monsters. Take the coins to the Nova Coin Shop to exchange for great rewards such as chairs, damage skins, scrolls, and more. Create a new character during the Breakthrough Nova Event, and receive a special gift box as you level up between Lv. 140 - Lv. 200 and complete missions. Each Breakthrough Box contains useful items including Breakthrough Potions which give you an entire level if you use them soon!
MORE EVENTS
Make it snow mesos in the new Cryojet Mount event. Pay a meso fee to board the special flying mount and it will fly over Henesys or Leafre scattering millions of mesos! Players have 30 seconds to collect as many mesos as possible. Join the Dragon Pop event to acquire Dragon Energy and earn Dragon Pops! Dragon Pops give you Nova Coins, equip rewards, and more. Zero is also returning, giving you another chance to create a character with this job.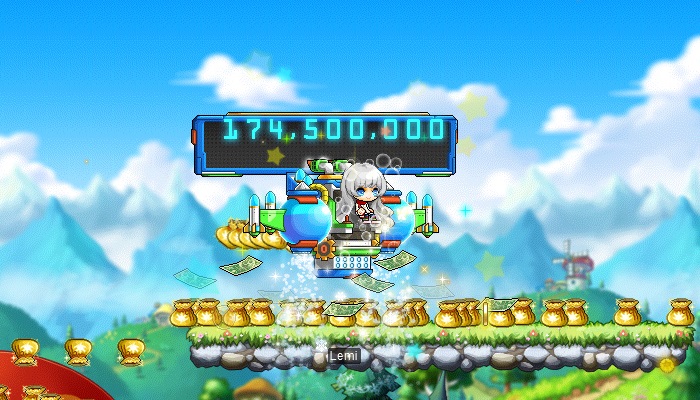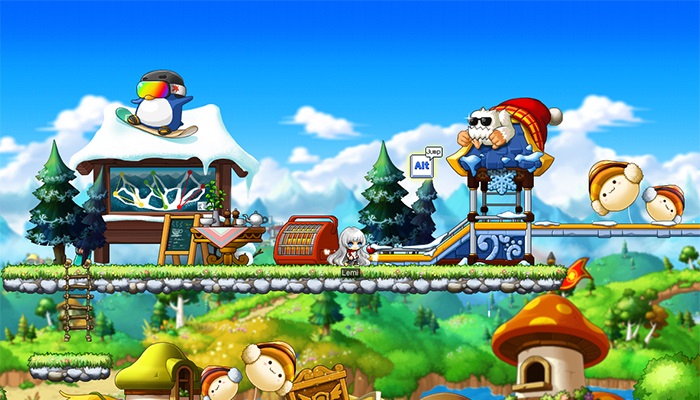 For the complete patch notes, click here!