Show off your brains and brawn as you take part in competitive events across Maple World! Your Maple knowledge is put to the test in the new Divine Intelligence event, and a new fighter makes his way to The Legends Return. Then rescue Wondroids in Mechanical Hearts, and meet two new Wondroids! It wouldn't be the New Year without New Year events, and we have lots of them! Celebrate the Year of the Dog with fireworks and a new event dungeon, and earn Magpie Coins to exchange for rewards. All this and more is coming your way in MapleStory: New Year Showdown!
DIVINE INTELLIGENCE
Show off your mind with the new Divine Intelligence event! This mini-game will test you on Maple knowledge and reward you with points depending on how much you know. You will be challenged with identifying monsters based on their silhouettes, and you must quickly move to the area with the correct answer to stay in the game. In addition to points, you'll also receive a limited-time title that records how many times you answer correctly!
Click here to learn more about Divine Intelligence!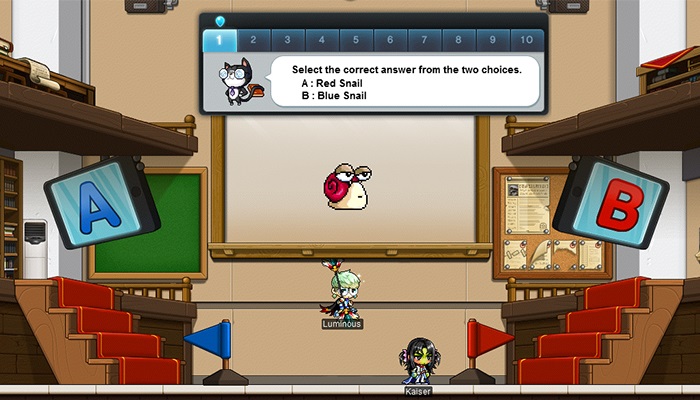 THE LEGENDS RETURN
Show off your strength with The Legends Return! In this event, players compete 3 on 3 in a PvP style brawl. Each player selects an avatar reflecting a Maple legend such as Grendel the Really Old, Manji, or Athena Pierce. For the first time, the hero of Winter Bard, Ryude, is available to select! Use the skills of these masters to defeat the opposing team. Avatars can grow and level up by defeating monsters or opposing players. Whoever receives the most points at the end of the battle wins Magpie Coins to redeem in the New Year Coin Shop!
Click here to learn more about The Legends Return!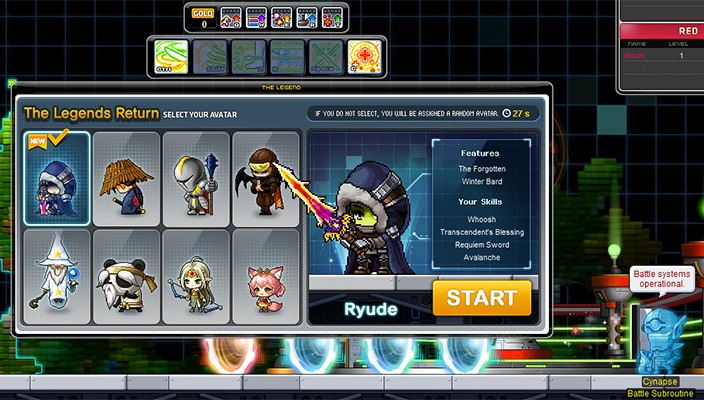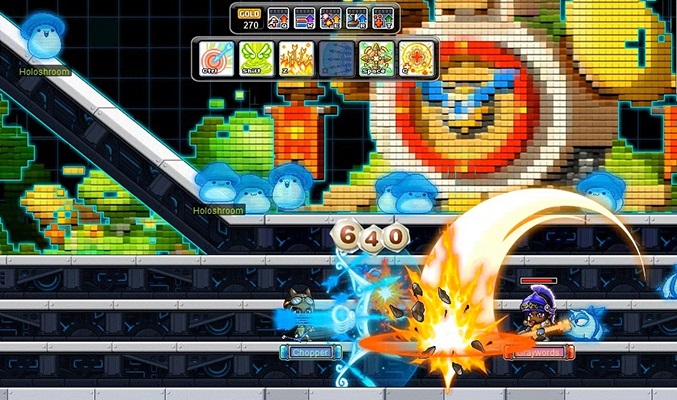 MECHANICAL HEARTS
The Mechanical Hearts event returns with two new Wondroids! Meet Adam and Eve, Wondroids created to assist the mighty executives of Aspire. The android business is booming, and the Wondroid is the hottest new commodity. But everything is not as it seems, and Eve stumbles upon the dark secrets of Aspire. Will they be able to escape their fate? Sneak into Aspire and avoid traps to rescue the suffering Wondroids, and learn the truth about Adam and Eve. Earn coins that you can exchange for Wondroid Hearts, Wondroids (including Adam and Eve), chairs, equips, and more!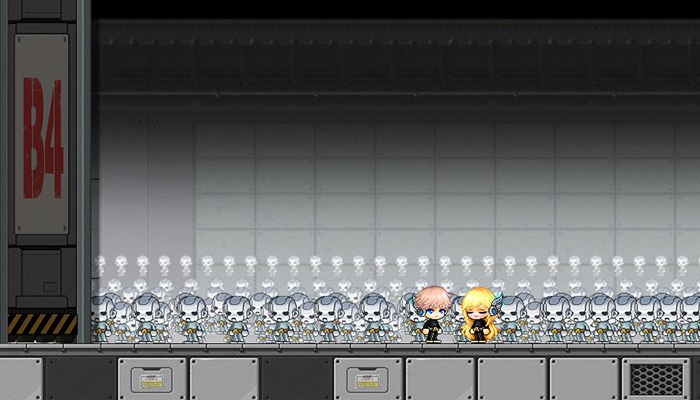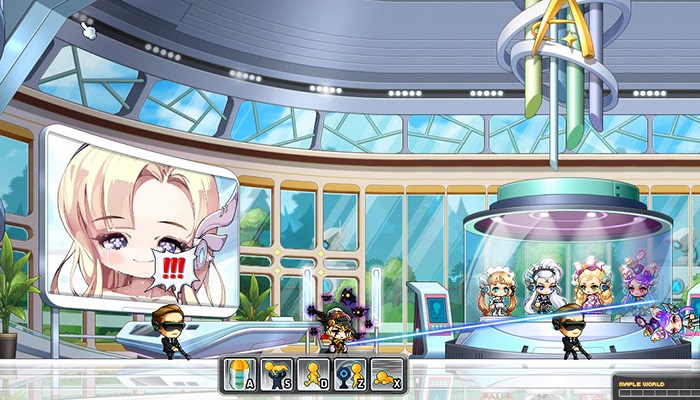 LUNAR NEW YEAR EVENTS
Celebrate 2018, the Year of the Dog, with some fun Lunar New Year events! Maple World will be decorated with lanterns and fireworks, and you will be able to earn a Daily Hong Bao that rewards you with a 3x EXP or 3x Drop buff (your choice), and a random reward such as restorative items and more. Earn a special 8-Blessing Ring, and complete daily hunting quests to earn 8-Blessing Charms that enhance the ring's stats. Take part in a new event dungeon where you must face Nyen, who has kidnapped each of the 12 animals of the zodiac. Fight your way through multiple stages and rescue the animals, until you face Vengeful Nyen himself! Earn rewards such as damage skins, Dancing Lion Mount, and Lunar New Year Cube Chairs.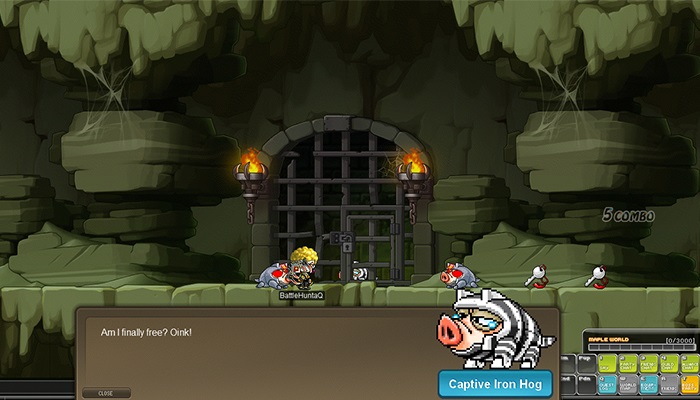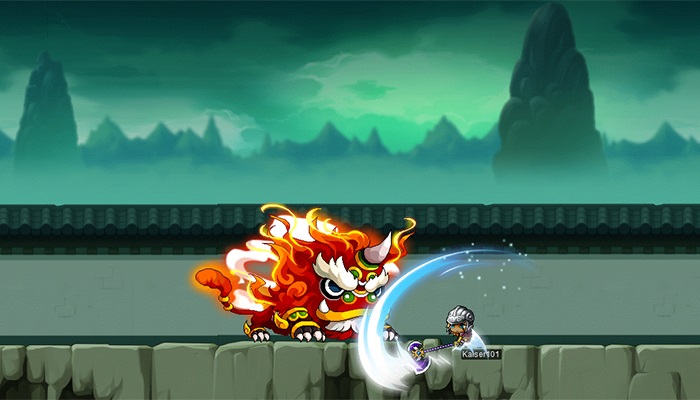 MORE EVENTS
There are more New Year events to enjoy! Put a New Year's wish on a kite and fly it across Maple World to receive Magpie Coins. Participate in mini-games such as Kite Rider, OX Quiz, and Supernatural Yut to earn more Magpie Coins. Take your coins to the New Year Coin Shop to exchange for androids, damage skins, chairs, and more. Then get ready for Valentine's Day! Hunt monsters to collect the chocolates they drop, and you'll be rewarded with more Magpie Coins!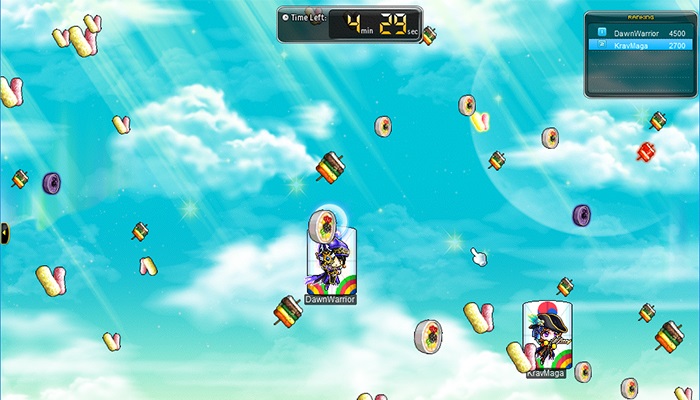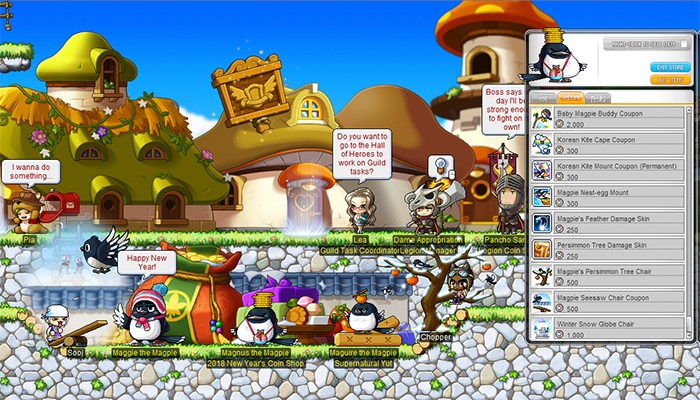 For the complete New Year Showdown patch notes, click here!