Sunny Sunday
PDT: Saturday, March 24, 2018 5:00 PM – Sunday, March 25, 2018 4:59 PM
EDT: Saturday, March 24, 2018 8:00 PM – Sunday, March 25, 2018 7:59 PM
CET: Sunday, March 25, 2018 1:00 AM – Monday, March 26, 2018 1:59 AM CEST
AEDT: Sunday, March 25, 2018 11:00 AM – Monday, March 26, 2018 10:59 AM 
Join us on Sunday (UTC) for some special perks! All day long, you can enjoy the following benefits: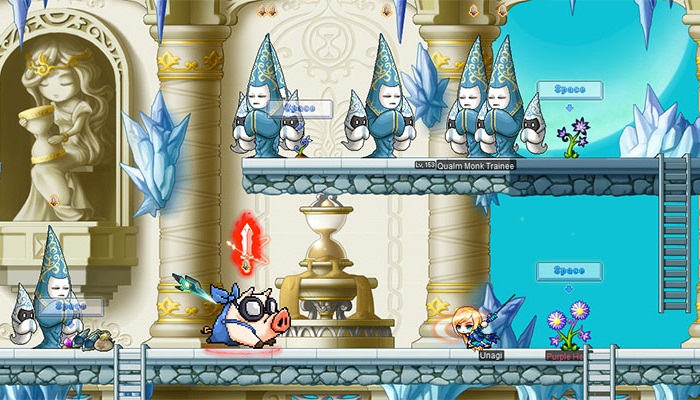 Receive 2x Pop Coins, and double the reward items from Maple Film Festival!
Receive 50% off when you do Ability resets!
Receive 5x Honor EXP from Medal of Honor dropped by field monsters!
Guide to 2x Pop Coins and double reward items from Maple Film Festival:
Monster Cabbie: When trading for Pop Coins, get 2x the amount!
Detective Kemdi: Get 2x the Pop Coins reward per round.
Pink Bean's Plum Petal Puffs: Get 2x Pop Coins until you use Plum Petal Puffs 60 times.
Standoff: 2x daily obtainable Film Points, 2x points obtained when hunting monsters near your level, 2x the daily amount of usable Film Reels!
 Make sure to log in and take advantage of these perks!

Spell Trace Fever Time
Get ready to upgrade your equipment during the Spell Trace Fever Time Event! While Spell Trace Fever Time is active, all Spell Traces used on your equips have increased rates of success!

| | |
| --- | --- |
| Regular Rate | Increased Rate |
| 70% scrolls | 95% success |
| 30% scrolls | 45% success |
| 15% scrolls | 25% success |
Check the top of the screen for the Spell Trace Fever Time notifier.

This event is available in non-Reboot worlds only.
Time:
Saturday, March 24, 2018
PDT: 1:00 AM – 3:00 AM & 11:00 AM – 1:00 PM & 7:00 PM – 9:00 PM
EDT: 4:00 AM – 6:00 AM & 2:00 PM – 4:00 PM & 10:00 PM – 12:00 AM (March 25)
CET: 9:00 AM – 11:00 AM & 7:00 PM – 9:00 PM & 4:00 AM – 6:00 AM CEST (March 25)
AEDT: 7:00 PM – 9:00 PM & 5:00 AM – 7:00 AM (March 25) & 1:00 PM – 3:00 PM (March 25)
Sunday, March 25, 2018
PDT: 1:00 AM – 3:00 AM PDT & 11:00 AM PDT – 1:00 PM PDT & 7:00 PM – 9:00 PM

EDT: 4:00 AM – 6:00 AM & 2:00 PM – 4:00 PM & 10:00 PM – 12:00 AM (March 26)
CEST: 10:00 AM – 12:00 PM & 8:00 PM – 10:00 PM & 4:00 AM – 6:00 AM (March 26)
AEDT: 7:00 PM – 9:00 PM & 5:00 AM – 7:00 AM (March 26) & 1:00 PM – 3:00 PM (March 26)