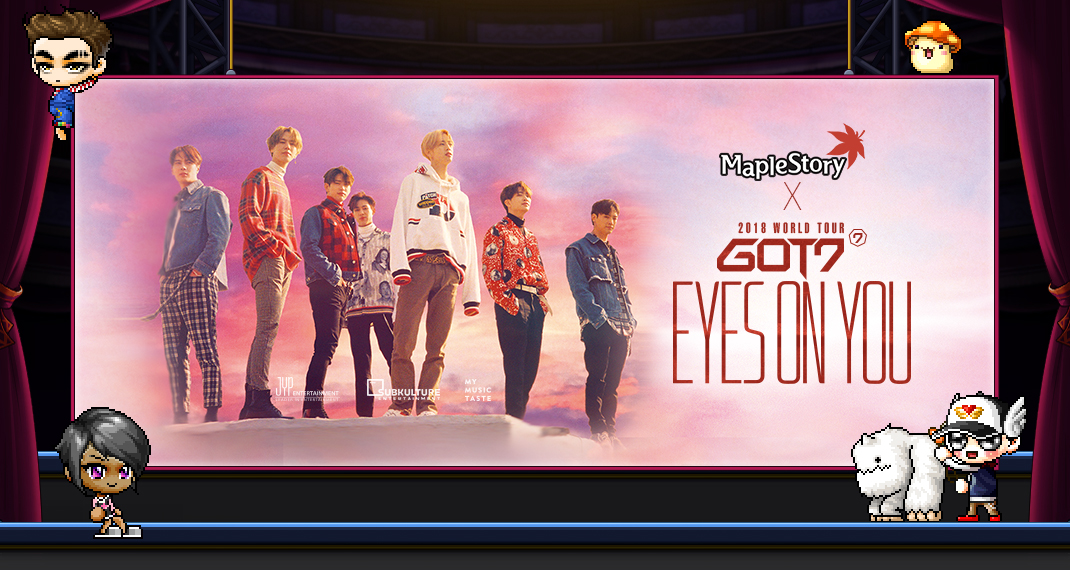 It's the summer of MapleStory! We're busy preparing for our huge content update featuring new character Ark, Esfera, Grand Athenaeum: Episode 5, system changes, and more.

As part of the summer fun, MapleStory is partnering with GOT7's US Tour! The K-pop sensation is touring the world in support of their new album, Eyes On You.

For a chance to join GOT7's US Tour in Los Angeles, Houston, and New York, play MapleStory and complete a survey. For each location, up to 10 lucky winners will receive free P1 tickets and up to 40 lucky fans will receive free P5 tickets! The P1 ticket includes a HiTouch event where you can meet and high five with the members of GOT7 at the concert.

In order to be selected, you need to start a new character in MapleStory, reach a certain level, and fill out the entry form!
You must reach

Lv. 33

or above on a

new character

created after

May 18 at 11:00 AM (PDT)

to be eligible for a P5 ticket.
Keep on leveling up, because if you reach

Lv. 77

on a

new character

created after

May 18 at 11:00 AM (PDT)

, you will be eligible for a P1 ticket and HiTouch event with

GOT7

.
You must fill out the entry form by

June 10 at 11:59 PM (PDT)

to be eligible to receive tickets for each city. We will review the applications and select each winner based on his or her in-game level and responses.
Leveling up in MapleStory is quick and fun. You can reach Lv. 33 within a few hours, so get started today!
When filling out the form below, you need to provide your Nexon account user number. Click here for more information about how to find this.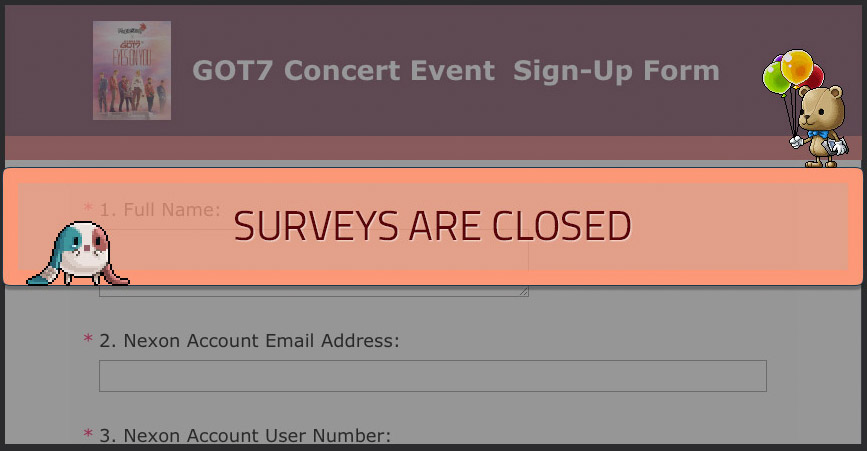 Completing the entry form or reaching the minimum required levels of game play does not guarantee tickets to the concert. Make sure to provide your full legal name, as you will need to present valid photo ID to pick up your ticket at Will Call if you are selected. Winners will be contacted via email on June 14.
*Offer valid for domestic US MapleStory players whose accounts are in good standing. The Nexon email account address entered to register and win must create a new character after May 18, 2018 at 11:00 AM PDT and must reach the designated minimum level (33) (for a P5 ticket) or level (77) (for a P1 ticket) in MapleStory by the end of the event period. The account must have been active and logged in at least once during the entire period of the contest to be eligible. Accounts may register for the promotion at any time. The contest closes at June 10, 2018 at 11:59 PM PDT. Nexon America Inc.'s computers will be the official time-keeping devices. All dates and times are in Pacific Time. Winners will be contacted via email directly after the promotion closes and will need to confirm receipt of the email awarding their prize tickets within 48 hours of receipt by the winner's email account. Winners are responsible for transportation to and from the event venue. Click here for Los Angeles Contest Rules. Click here for Houston Contest Rules. Click here for New York Contest Rules.