Sunny Sunday
PDT (UTC -7): Saturday, July 14, 2018 5:00 PM – Sunday, July 15, 2018 4:59 PM
EDT (UTC -4): Saturday, July 14, 2018 8:00 PM – Sunday, July 15, 2018 7:59 PM
CEST (UTC +2): Sunday, July 15 2018 2:00 AM – Monday, July 16, 2018 1:59 AM
AEST (UTC +10): Sunday, July 15, 2018 10:00 AM – Monday, July 16, 2018 9:59 AM 
Join us on Sunday (UTC) for some special perks! All day long, you can enjoy the following benefits: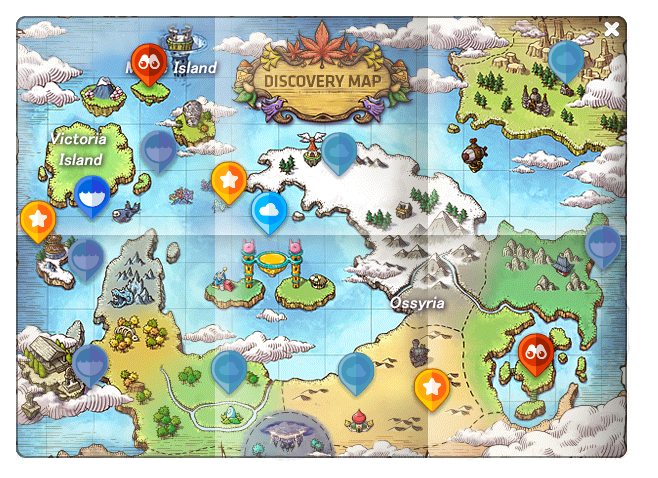 Receive 4 Arcane Symbol Coupons, each of which can be exchanged for 5 Arcane Symbols!
Receive a Storm Growth Potion, which you can use to boost your character an entire level! Can be used by players between Lvl. 100 and 199.
Receive three 2x EXP Coupons, which can be used to double all experience gained for 30 minutes!
Ark Points from Discovery Events (Viewpoint, Ocean, Sky, Weather, and Treasure Ship) are doubled!
During the event, the daily Ark Point limit from Discovery Events is doubled!

Make sure to log in and take advantage of these perks!

Spell Trace Fever Time
Get ready to upgrade your equipment during the Spell Trace Fever Time Event! While Spell Trace Fever Time is active, all Spell Traces used on your equips have increased rates of success!

| | |
| --- | --- |
| Regular Rate | Increased Rate |
| 70% scrolls | 95% success |
| 30% scrolls | 45% success |
| 15% scrolls | 25% success |
Check the top of the screen for the Spell Trace Fever Time notifier.

This event is available in non-Reboot worlds only.
Time:
Saturday, July 14, 2018
PDT (UTC -7): 1:00 AM – 3:00 AM & 11:00 AM – 1:00 PM & 7:00 PM – 9:00 PM
EDT (UTC -4): 4:00 AM – 6:00 AM & 2:00 PM – 4:00 PM & 10:00 PM – 12:00 AM (July 15)
CEST (UTC +2): 10:00 AM – 12:00 PM & 8:00 PM – 10:00 PM & 4:00 AM – 6:00 AM (July 15)
AEST (UTC +10): 6:00 PM – 8:00 PM & 4:00 AM – 6:00 AM (July 15) & 12:00 PM – 2:00 PM (July 15)
Sunday, July 15, 2018
PDT (UTC -7): 1:00 AM – 3:00 AM & 11:00 AM – 1:00 PM & 7:00 PM – 9:00 PM

EDT (UTC -4): 4:00 AM – 6:00 AM & 2:00 PM – 4:00 PM & 10:00 PM – 12:00 AM (July 16)
CEST (UTC +2): 10:00 AM – 12:00 PM & 8:00 PM – 10:00 PM & 4:00 AM – 6:00 AM (July 16)
AEST (UTC +10): 6:00 PM – 8:00 PM & 4:00 AM – 6:00 AM (July 16) & 12:00 PM – 2:00 PM (July 16)