Hi Maplers,
We're here to share our Roadmap for Q1 2023! As always, please be mindful that it will list the notable updates but not everything that will be included in each patch. We recommend waiting for the respective update's Update Preview post or Patch Notes post for details.

January 2023

Hyper Ignition Event
New Area: Odium
Boss Extreme Mode

Early February 2023

Neo Tokyo Event
Fairy Bros' Golden Giveaway
Cube Revamp

March 2023

Super Yeti x Pink Bean World
Grand Athenaeum Update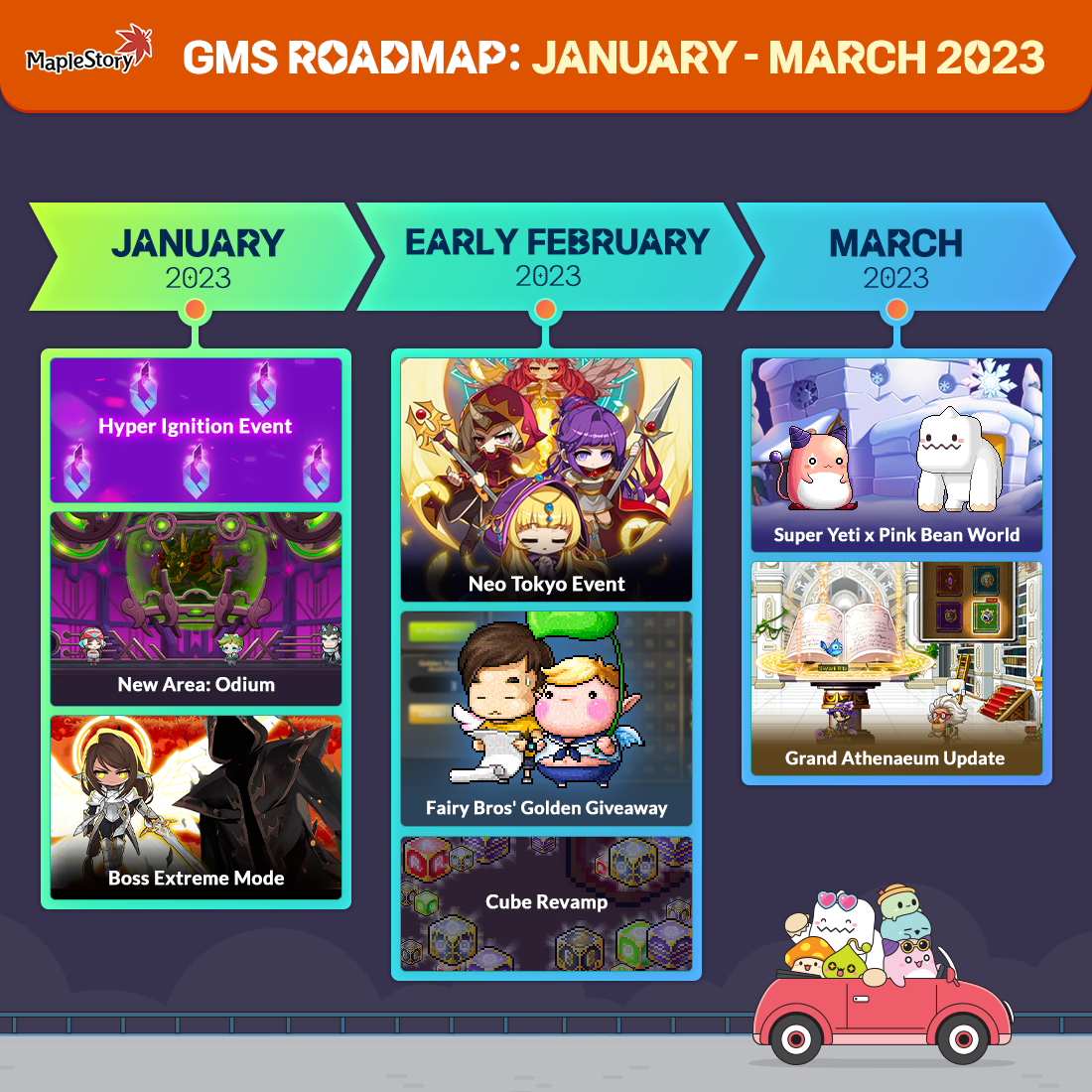 January - Hyper Ignition Event
The Fireworks Festival Parade closes out with one last set of events and mini-games to enjoy as we ring in the new year! This is also your last chance to claim the many rewards from the Fireworks Festival Parade, so enjoy the fun and rocket off into 2023 with some exciting new activities to master!
January - New Area: Odium
Beyond Karote, The Unending Tower, lies Odium, a building full of untouched mysteries behind its locked doors. No one knows who built it or with what purpose, and it's a mystery as to what is happening within... Uncover the secrets as you make your way into Odium in this new content for players Lv. 275 and up!
January - Boss Extreme Mode
Take on Seren and Black Mage on the newest difficulty mode, Extreme! These already-powerful bosses will have more HP to burn through and greater power in their attacks, but that's not all. The familiar mechanics of these bosses will be tweaked to make Extreme difficulty far more than just needing bigger numbers to win– you'll need to give it your all to have a chance!
February - Neo Tokyo Event
Take a trip into the future and take part in the long-awaited Neo Tokyo Event! This limited-time, time-twisting tale will be opened for you to experience for the first time ever, with plenty of secrets to learn and temporal phenomena to untangle!
February - Fairy Bros' Golden Giveaway
The Fairy Bros are back to reward you for your attendance in MapleStory! Keep coming back to MapleStory throughout this update and the months to follow for a wide array of fantastic prizes! 
February - Cube Revamp
We will be retiring the current slate of Cubes with the February update and providing a new set of Cubes. The new set of Cubes will have a chance for double rank-up and there will be changes to how Cube Fragments function. You can see the full details on the Upcoming Cube Changes post.
March - Super Yeti x Pink Bean World
The chaotic ball of energy Pink Bean, and the kind-yet-powerful Yeti are back again, and their rivalry hasn't cooled down at all! Enjoy these two unique playable jobs and show off their powerful skills once again!
March - Grand Athenaeum Update
The Grand Athenaeum is being updated with a look back on some high level content! Re-experience the events of the Arcane River and Grandis storylines that you've already completed!
We hope you're excited by this high-level view of the content and events arriving to GMS between January - March 2023. As always, our goal with these roadmaps is to provide information that players may be curious about and assist players with advanced preparation. Please keep in mind that there is more content on the way in addition to those listed above, so we advise players to refer to the Update Preview post and Patch Notes post for the finalized details for every game update. If plans change due to unforeseen circumstances, we will have a mid-update post to inform players of the changes to the proposed timeline. Have a happy holidays and we'll see you in the new year with the next roadmap!
Thank you,
Evolys and the MapleStory Team