Monster Park Extreme is back! Characters that are Lv. 260 or higher can now take their party of up to 4 players into the Extreme difficulty of the classic Monster Park encounter.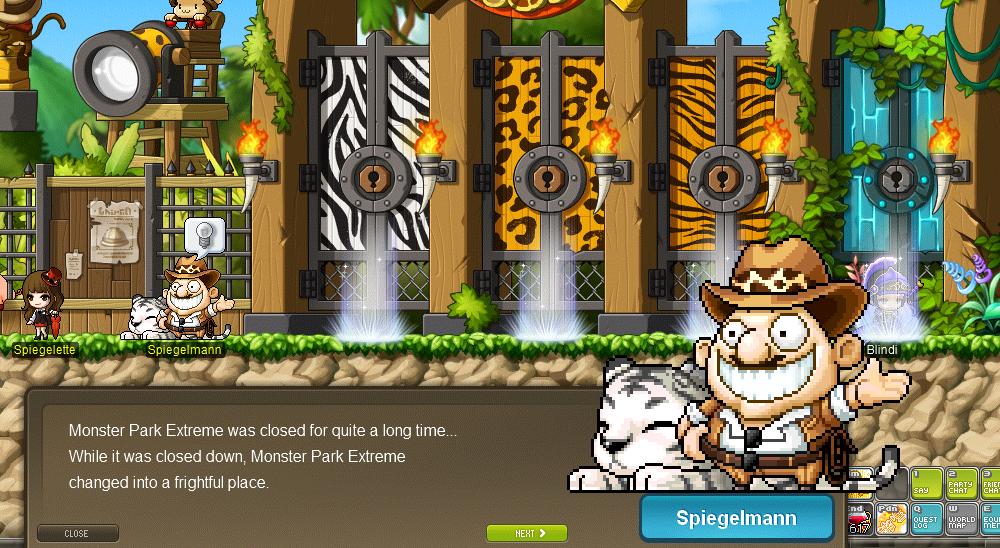 Venture into the new Unknown Area and hunt down the monsters that your friendly guide Spiegelmann calls out to you in order to empower the altar in the center of the zone. Once you take down the requisite number of monsters, you can activate the altar, summoning the powerful Extreme Bigfoot monster!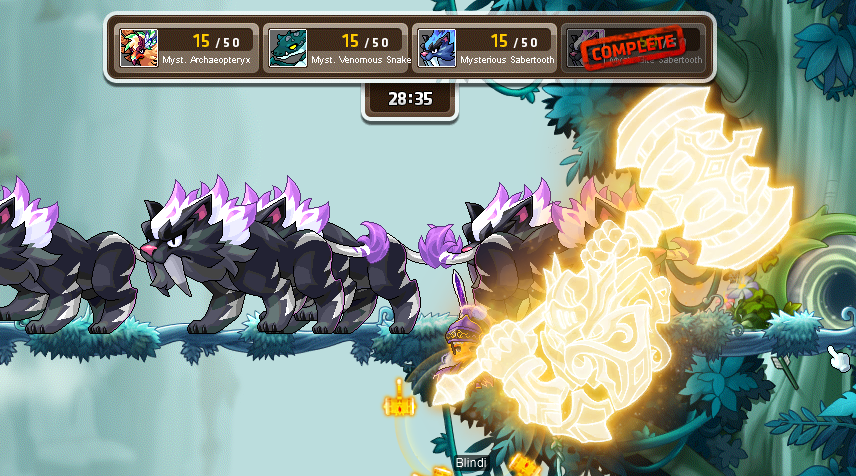 You'll only have a limited amount of time to attack Extreme Bigfoot until he flees from the field, so make sure you're ready for him and pile on the damage! Once Extreme Bigfoot escapes, you'll need to defeat more monsters to charge the altar and bring him out again to pour on more damage. Extreme Bigfoot will escape four times in total, and on his fifth appearance he'll stay until he's either defeated, or your 30-minute time limit in Monster Park Extreme elapses. Take down Extreme Bigfoot to complete the mode and earn your extremely large amount of EXP and Monster Park Days-of-the-Week Box!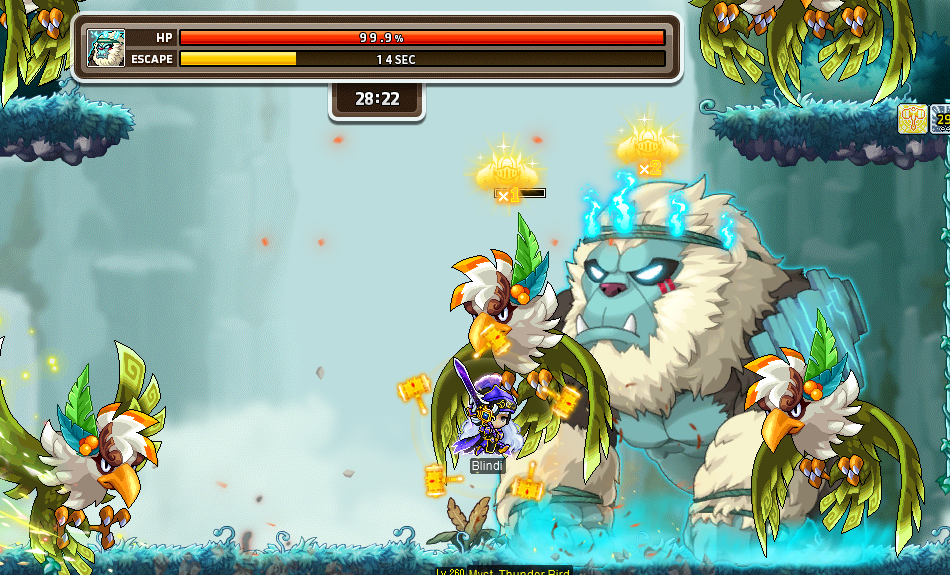 Monster Park Extreme Details:
Party of 1 to 4 players

Monster Park Extreme has been closed for a long time but has now reopened!

Monster Park Extreme can be cleared only once a day per world. Clear count isn't deducted if you fail to clear or exit midway.

The party leader of a party of 1-4 that are Lv. 260 or above can enter the Monster Park Extreme portal.

Spiegelmann informs you of the type and number of enemies required to hunt when the game starts.

The big altar in the middle of the map can be activated when the number of enemies you were informed about have been hunted. When one of the party members presses the Interact/Harvest key at the big altar, "Extreme Bigfoot" is summoned.

Extreme Bigfoot appears somewhere on the map and escapes after some time passes. Spiegelmann lets you know the remaining time until it escapes.

When Extreme Bigfoot escapes from the map, you can hunt and activate the big altar again to summon it.

When Extreme Bigfoot is defeated within the time limit, you can clear Monster Park Extreme.

If you don't defeat Extreme Bigfoot within the time limit, it will be processed as a fail.

Extreme Bigfoot won't escape anymore after escaping several times.
Monster Park Extreme Rewards:
EXP
Monster Park Days-of-the-Week Box: Untradeable, Permanent.
Monster Park Improvements

We've also implemented a few improvements to Monster Park in general with the Ignition: Cygnus Knights update earlier in the month, check them out below!
Changed the dungeon entry level for Beginner, Intermediate, and Advanced:

Beginner: Lv. 105-139 (Auto Security Area - Otherworld Battleground)

Intermediate: Lv. 140-179 (Dangerously Isolated Forest - Watchman's Tower)

Advanced: Lv. 180 and above (Nest of a Dead Dragon - Moonbridge)

Improved some Monster Park stages.

Changed enemy placement and some terrains in Vanishing Journey, Chu Chu Island, Lachelein the Dreaming City, and The Mysterious Forest of Arcana.

Monster Park quest and achievement conditions are now a little bit clearer.

Added information to the "[Monster Park] Daily Medal Challenge" quest that Monster Park Extreme clear isn't included.

Added text to the following achievement descriptions that Monster Park Extreme clear is excluded.

[Monster Park] Monster Park EXP

[Monster Park] You do plan to have monsters on your monster tour, right?

[Monster Park] Theme Park Scream

Added 4 types of new stages opening on November 30 at 12:00 AM UTC:

Morass, the Swamp of Memory (entry requirement: complete the "[Morass] Her Purpose" quest)

Esfera: Origin Sea (entry requirement: complete the "[Esfera] Mirrors in Mirrors" quest)

Sellas, Where the Stars Rest (entry requirement: complete the "[Sellas] Secret of the Light" quest)

Moonbridge (entry requirement: complete the "[Moonbridge] Clear Path" quest)