Welcome back! Over 200 major updates have resulted in quite a few changes to MapleStory over the years. If you're an older MapleStory player who has been gone for a while, there may be a few surprises in store. This page summarizes major updates that have released since the V updates in late 2016, and will be updated in the future with notable older updates and other major changes.


Major Changes
Below are some of the major changes to MapleStory that older players might not know about, and be surprised by on their return. There's been a lot of big changes over the years (multiple Level Cap increases, new jobs, new adventures, new bosses...), but the section below is all about those major changes that made a huge difference in how people enjoyed Maple World, and what you should be aware of when you're coming back!
Better Maple Updates - Ongoing
MapleStory is a very long-running game, and with numerous updates a year, there's a lot of time to go back and look to see what changes and improvements can be made to ongoing game systems. Many of these changes have been bundled together as Better Maple changes in the patch notes listed below, where we took a long look at some key factor of MapleStory and worked to improve it to, well, create a better MapleStory experience.
Cygnus Knights Redux - November 16, 2022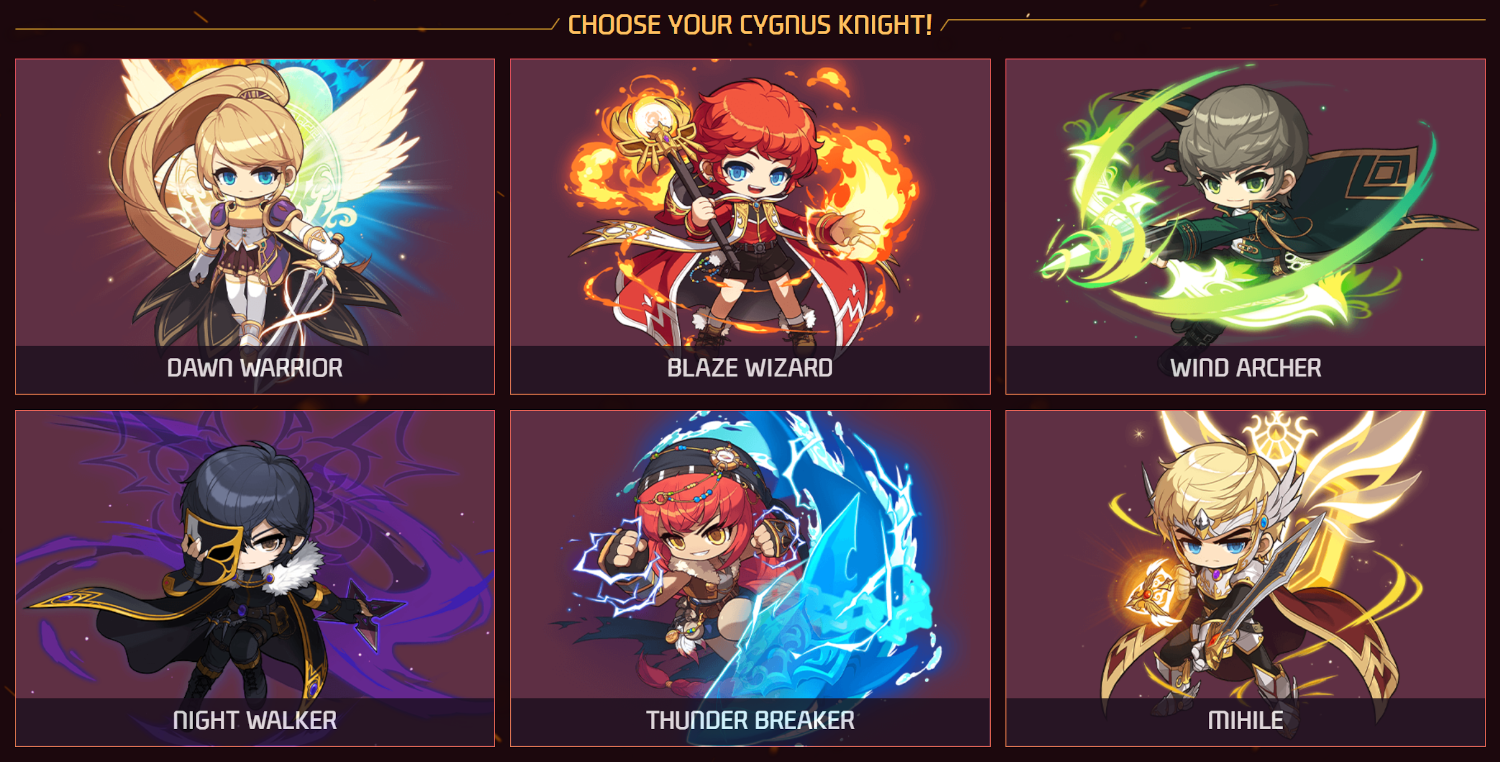 The Cygnus Knights are some of the oldest classes in MapleStory, an order of legendary warriors that battled the Black Mage in the days of old, and they have returned once again to finish their noble fight, and with the Ignition: Cygnus Knights Redux update, we've given them a revamp!
All six Cygnus Knight classes are getting upgraded with new skills, improved animations, and additional story segments to flesh out their adventures in Maple World further! As with the Explorer classes during the Destiny update, we've been careful to avoid confusing veteran Cygnus Knight Maplers or changing what they love about the classes. Take a look at the patch notes to see what's changed:
Explorer Redux - June 15, 2022

The Explorers are the original classes of MapleStory! Starting out as a simple Beginner, you can select your own path through 14 different possible jobs across all five types of MapleStory characters. They've been the backbone of MapleStory for the last 17 years, and with the Destiny: Remastered update all 14 Explorer jobs have been revamped!
This revamp includes improved skills, better animations, new story segments to explore and more! While we've worked hard to make sure that the changes won't confuse Maplers with Explorer characters, you'll have plenty to play with and "explore" with this refresh to MapleStory's oldest class of heroes! If you're coming back to MapleStory and you have an Explorer character as one of your favorites, take a look at the patch notes to see what's changed:
Familiar Revamp- April 21, 2020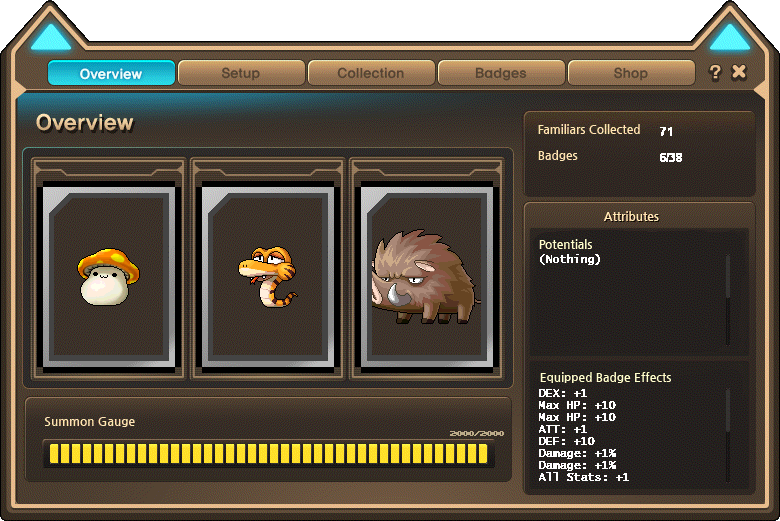 In the spring of 2020, we released a massive overhaul of the Familiar system, completely changing the way that Familiars grow in power, allowing any Familiar in MapleStory to be upgraded to the maximum power possible. This was an improvement over having a set Familiar level that went unchanged, requiring you to get new ones as you grew in power, leaving your old friends behind.
Familiars were changed to all start out at the same power, letting them grow in power through combat, and upgrade rarity to get even stronger as you level them up. While some of the details have changed since its initial release, the original post for the Familiar Revamp lays out the new system in great detail, so that you can train your favorite helpers to be as powerful as they can be!
Maple Tour - March 11, 2020
In March 2020, we introduced a new dungeon to help with one of MapleStory's ever-popular activities: Earning mesos! Maple Tour is a dungeon specifically intended to be the ideal place to gather mesos, with a limited number of attempts available per day. The more stages that you can clear within ten minutes (up to six), the more mesos you'll earn, although there's a slight delay.
While Maple Tour will give you more mesos than any other piece of content, it comes on a week-long delay. You'll earn the full sum you earned after a 7-day waiting period, although you can get take the Payday Advance option to take only half the number of mesos possible, but receive them immediately upon clearing the dungeon, if you have an urgent need for the funds. This dungeon has become a staple of play within MapleStory since its introduction, and you can learn more about it in the v.212 Patch Notes post!
World Merges - August 28, 2019
Server technology has improved a bit in the last fifteen years, and in 2019 we took advantage of it to combine many MapleStory worlds together and create a more active, vibrant set of worlds! The Worlds of Elysium (formed by combining Broa, Khaini, Galicia, Renegades, Arcania, Zenith, El Nido, and Demethos) and Aurora (formed by combining Windia, Mardia, Yellonde, Bellocan, Chaos, Kradia, and Nova) were added, making it easier to find other players to meet and form a group.
More happened than just combining a few worlds together and calling it a day, however. The v.207 Worlds Unite Patch Notes has the full list of changes made in order to accommodate all the additional players and the number of complications such a process naturally creates. If you were an active player prior to this patch and are recently returning, we strongly suggest that you look over the notes to find out where your old characters are now residing and what changes needed to be made to accommodate the merge.
5th Job Advancement - December 16, 2016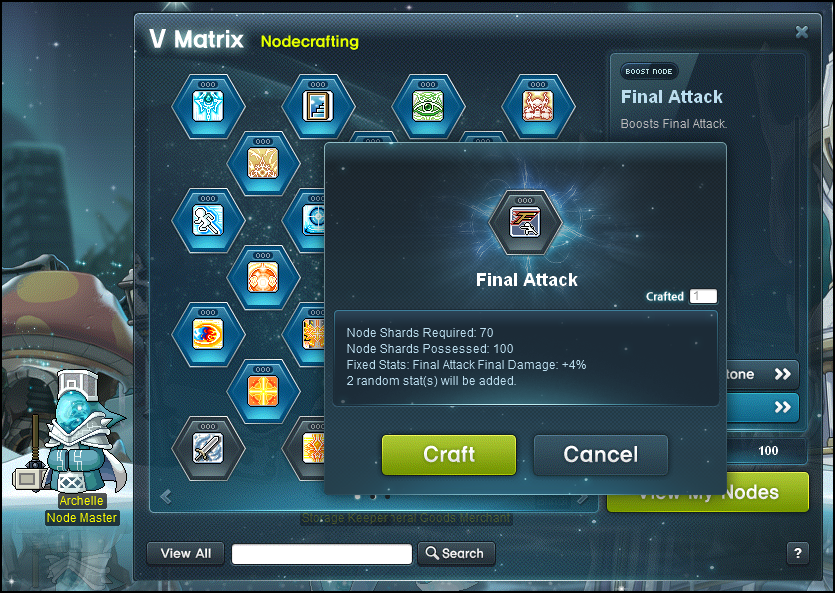 Back during the V series of updates, we released the 5th Job Advancement, allowing MapleStory characters to grow even stronger and unlock a new tier of power. Unlike previous Job Advancements 1-4, however, 5th Job Advancement functions through the V Matrix, a special way to obtain and learn powerful new passive and active abilities.
5th Job Skills are obtained through Arcane River content, collecting Nodestones, crafting skills with randomized power-ups, powering them up, and equipping them as needed. We've also continued to support this with new 5th Job skills coming periodically, giving Lv. 200+ Maplers more powers to play with. You can learn more about how it was originally implemented in the V: 5th Job Patch Notes, get a grasp on how the V Matrix works in full with the V Matrix Maple Guide, or just peruse the full collection of skills with the 5th Job Skills Maple Guide.
Auction House - November 30, 2016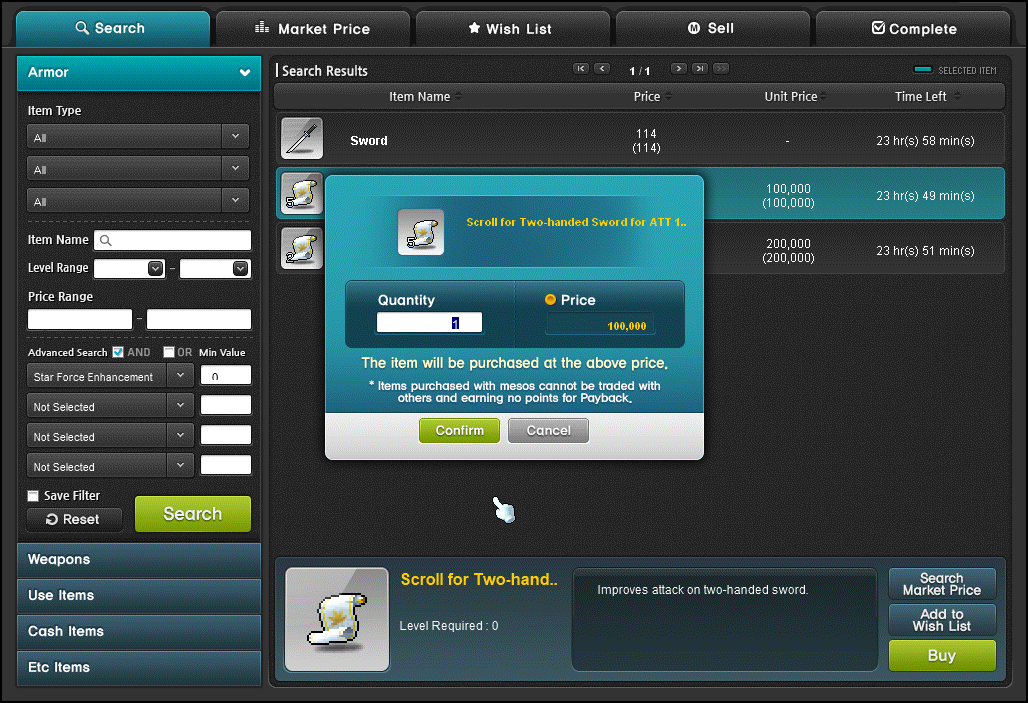 At the end of 2016, MapleStory introduced an Auction House system to make it easier and more convenient to buy and sell items from other MapleStory players! Take your items there, list them for the meso amounts you want, find the items or materials you need, and buy them off your fellow players! You can learn more about it in the Auction House Maple Guide, which goes over the basics of listing and selling your own items, as well as some of MapleStory's unique Auction House features!
Please note that, as part of the Auction House's implementation and adoption by the player base, the Free Market was eventually retired in early 2017. While items and mesos that were present in the Free Market could be reclaimed for a time, the NPC holding those items was removed in early 2020.
Past Updates
v.244 - Punch King Palooza - August 30, 2023

v.243 - Savior: Shangri-La & Kaling - July 19, 2023

v.242 - Savior: Khali, Wind of Vengeance - June 14, 2023

v.240 - Neo Tokyo Update - March 22, 2023

v.239 - Neo Tokyo Update - February 8, 2023

v.238 - Ignition: Extreme Update - December 14, 2022

v.237 - Ignition: Cygnus Knights Redux Update - November 16, 2022

v.235 - Rocking Revamp Update - August 31, 2022

v.234 - Destiny: Homecoming - July 20, 2022

v.233 - Destiny: Remastered - June 16, 2022

v.231 - Double Trouble Superstars - March 16, 2022

v.230 - Festival of Foodies - February 9, 2022

v.229 - On Air: An Absolute Unit - December 15, 2021


v.228 - On Air: Glimpse of Joy - November 17, 2021


v.224 - Neo: Light's Wrath - July 21, 2021


v.223 - Neo: Darkness Ascending - June 9, 2021


v.222 - 16th Anniversary: Hotel Maple - April 20, 2021


v.219 - Awake: Flicker of Light - December 15, 2020


v.218 - Awake: Ascend to Mastery - November 17, 2020


v.215 - Rise: Surge of Power - July 21, 2020


v.214 - Rise: Promise of the Guardian - June 9, 2020


v.213 - 15th Anniversary: Pixel Party - April 21, 2020


v.210 - Glory: Savior of Hope - December 17, 2019


v.209 - Glory: Strengthened Alliances  - November 18, 2019


v.207 - Worlds Unite - August 26, 2019


v.206 - Pathfinder: Squadron of Heroes - July 22, 2019


v.205 - Pathfinder - June 11, 2019


v.202 - Black Mage: New Beginnings - January 22, 2019


v.201 – Black Mage: Labyrinth - December 11, 2018


v.200 – Black Mage: Gathering of Heroes - November 14, 2018


v.197 – Ark: Monad - July 25, 2018


v.196 – Ark - June 20, 2018


v.191 – Nova: Brilliance of Illium - December 20, 2017


v.190 – Nova: Liberation of Cadena - November 29, 2017


v.187 – Override: Venture - July 20, 2017


v.186 – Override: Evolve - June 21, 2017


v.183 – Kerning City Superstars - March 1, 2017


v.179 – V: Lucid - January 4, 2017


v.179 - V: 5th Job - December 16, 2016


v.178 - V: Limitless - November 30, 2016