THE CASH SHOP
The Cash Shop is the one-stop-spot for fashion, cosmetics, pets and much, much more. You can access the Cash Shop by clicking the yellow Cash Shop button on the bottom of the screen, or by using the Hotkey: '.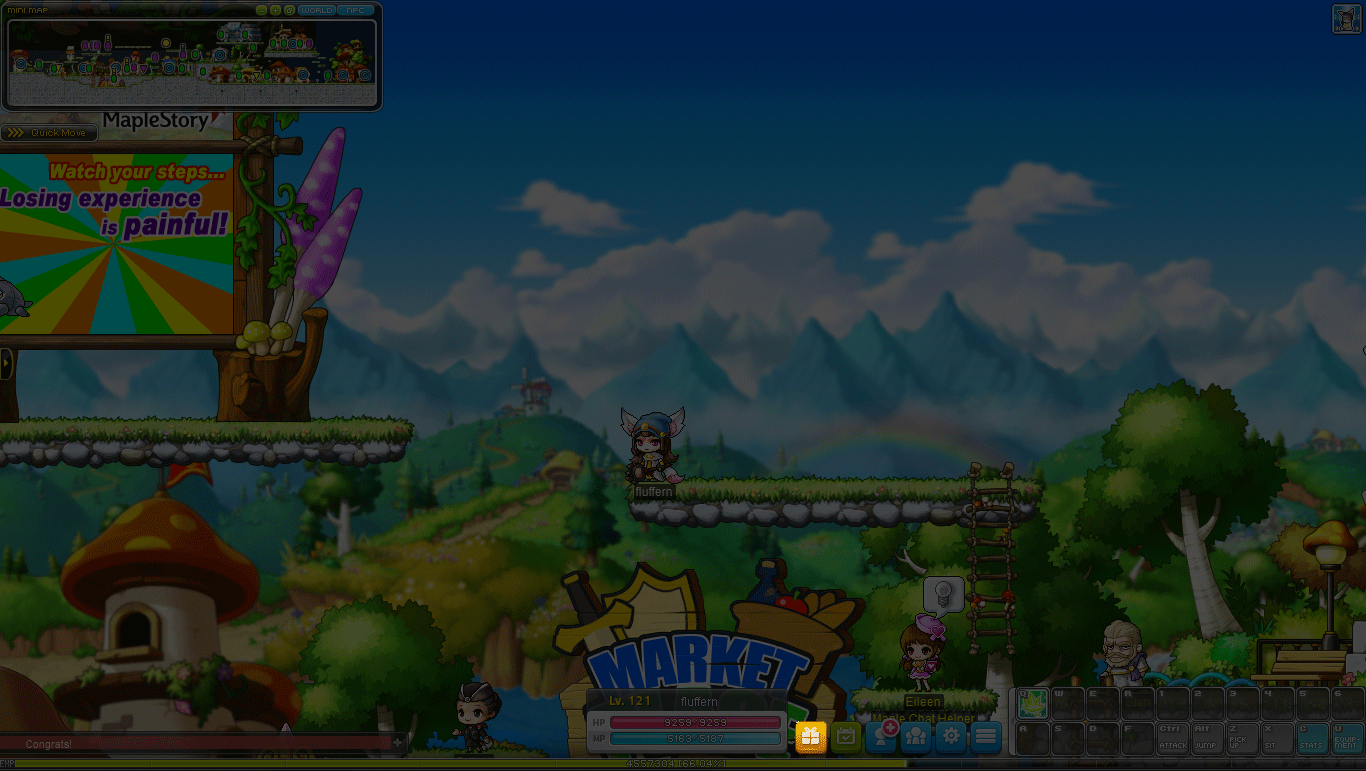 ---
USING NX
Items in the Cash Shop are purchasable with NX, Nexon's universal currency. You can purchase NX using a valid credit/debit card, PayPal, game card, and more. Your available NX balance is displayed at the top of the Cash Shop. To add more NX to your account, click the "CHARGE NX" button. Cash Shop items can also be purchased with Maple Points, which are distributed via certain in-game events.
More information: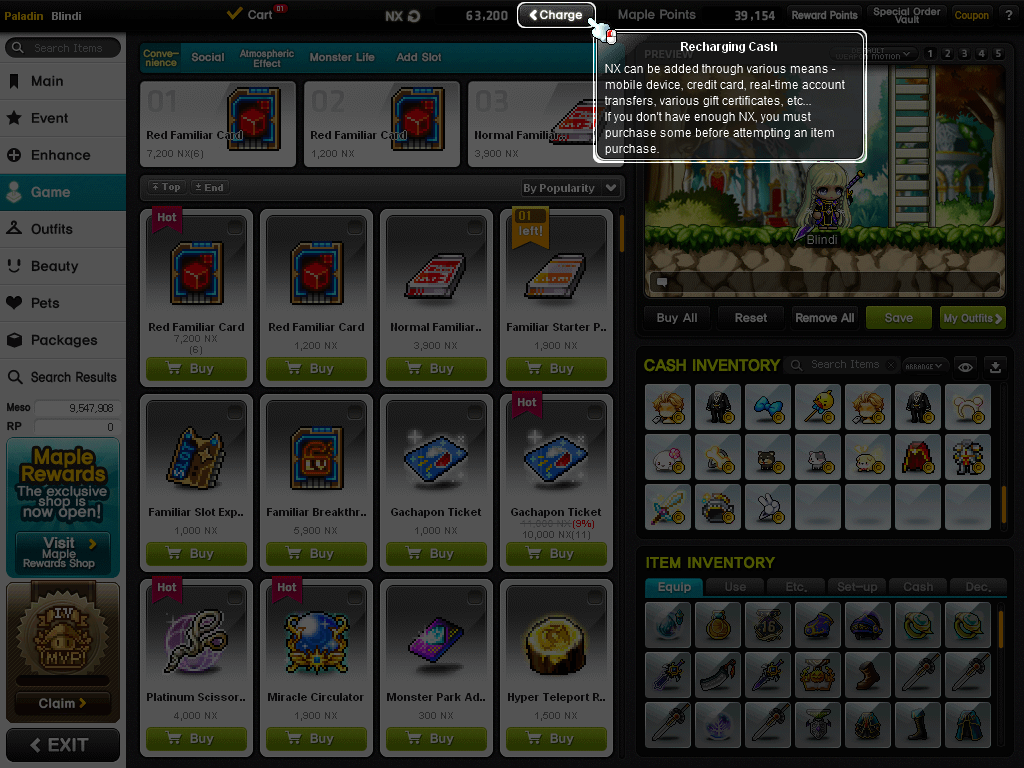 ---
CASH SHOP CATEGORIES
The Cash Shop is divided into multiple categories:
The newest items appear in the Event tab. Discounted items and limited-time sales can also be found here.
The Enhance tab contains scrolls to help improve and reset your character stats, and cubes that can be used to reroll the stats of your gear.
The Game tab contains various Convenience, Social items, increased character and inventory slots and more.
The Outfits tab contains various Outfit items for all slots that can be placed over your equipped gear, changing your look but not your abilities in combat.
The Beauty tab contains items that allow you to modify your Hair, Face, Expressions and other aspects of your appearance.
The Pet tab contains not only Pets, but also Food for your pets and Skills for them to use.
The Packages tab contains bundles of items that you can purchase for a discount.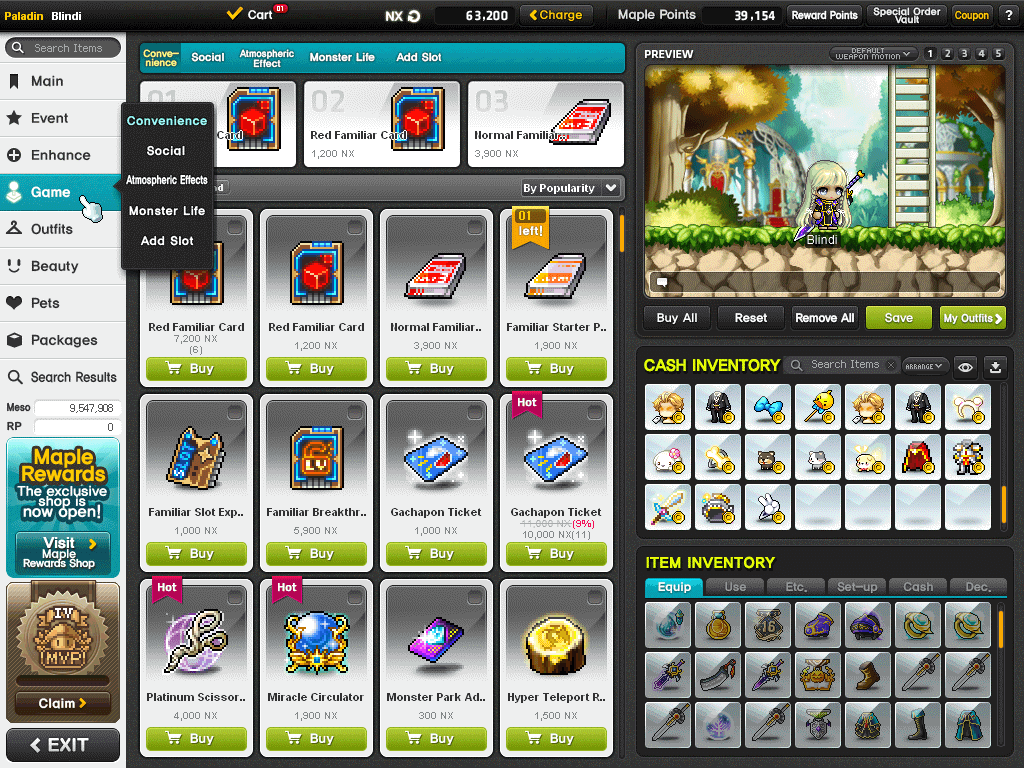 ---
PURCHASING AN ITEM
Click the "BUY" button below an item to purchase it. You can also add items to your Cart by marking the checkbox on the top right of each item. Items that do not have a checkbox cannot be added to the Cart.
When you purchase an item, it will be placed in your Cash Inventory. To use a purchased item, you will first need to transfer it to your Item Inventory. Simply double-click the item in your Cash Inventory to automatically move it into your Item Inventory. Double-click it again to remove it and return it to your Cash Inventory. Items cannot be transferred unless there is available space in your Item Inventory.
---
MAPLE REWARD POINTS
When you purchase an item, you will earn some Maple Reward Points! Maple Reward Points are a separate currency that can be earned through Cash Shop purchases, events, and normal gameplay. You can find the special Maple Rewards Shop by selecting the Reward Points button in the top-right corner of the Cash Shop screen. Maple Reward Points have an expiration date, so be sure to use your reward points before they disappear!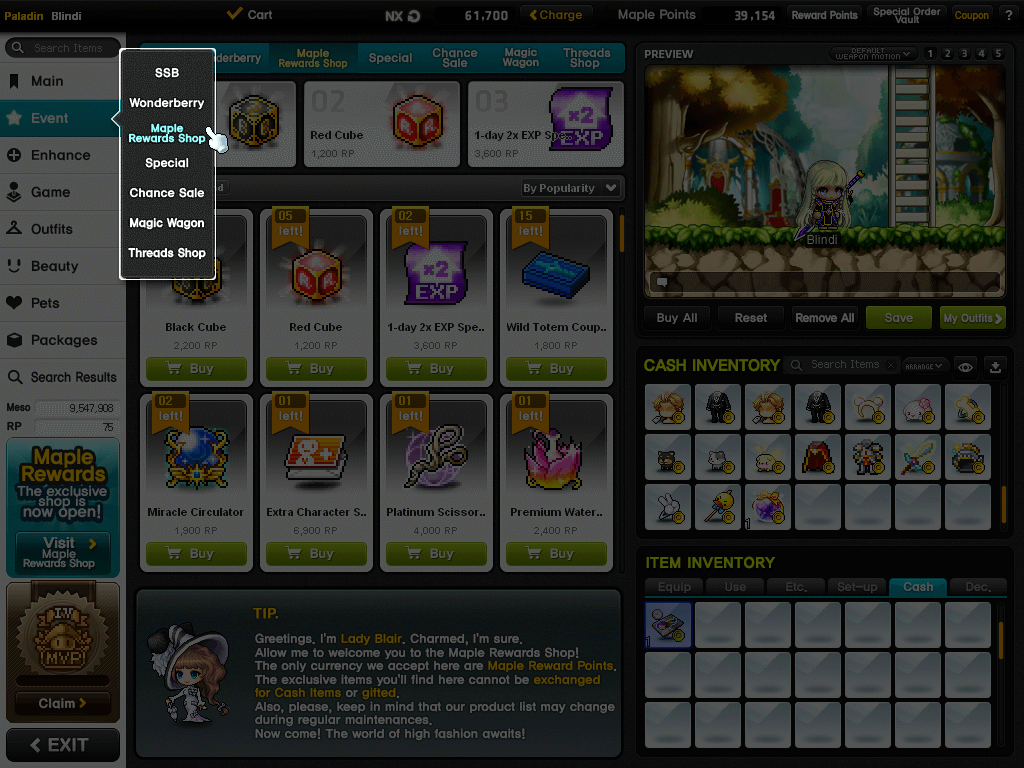 ---
MAPLE VALUE POINTS (MVP) SERVICE
Purchasing items in the Cash Shop can be rewarding! Depending on your spending habits, your account ID will be categorized and given a tiered ranking in each of two different MVP systems—MVP Bronze and MVP Special. You can check your status in each ranking system by clicking on the Claim button on the bottom-left corner of the Cash Shop screen.
As you make purchases, you can achieve higher ranks in the MVP systems and earn special benefits and rewards! Earn helpful benefits in-game, and receive gift packages containing fun items.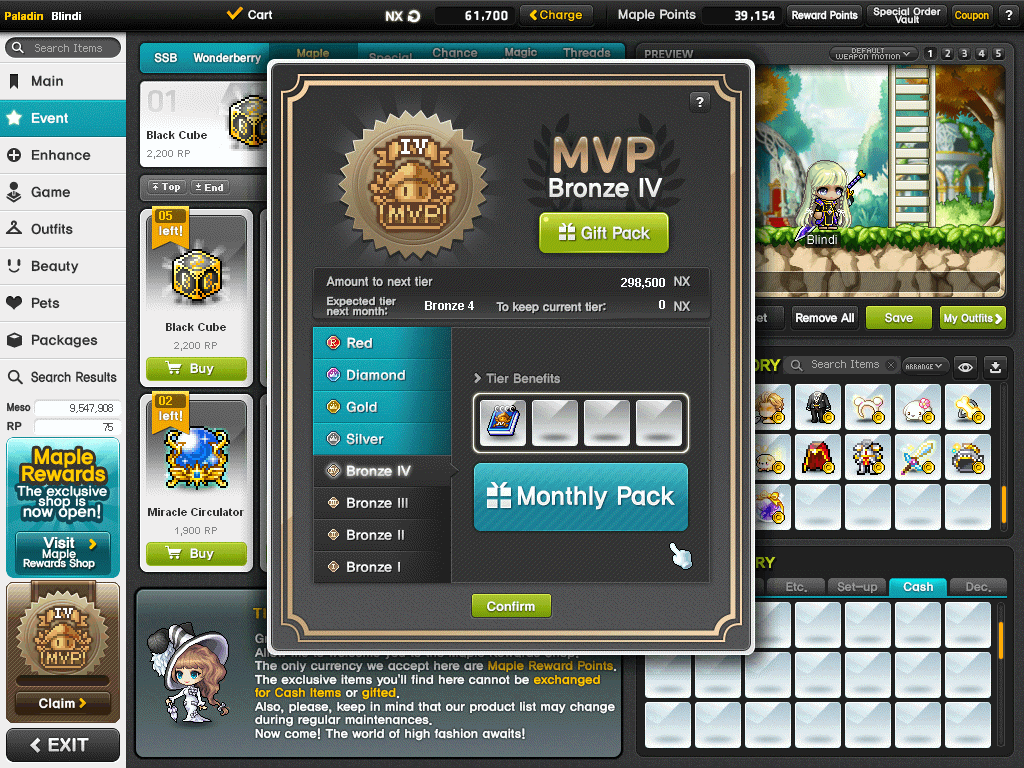 ---
GIFTING
In addition to your regular purchases, you can gift an item to a special someone by clicking the Gift button while purchasing with NX during Checkout. Make sure to have the correct character name of the other person when gifting!